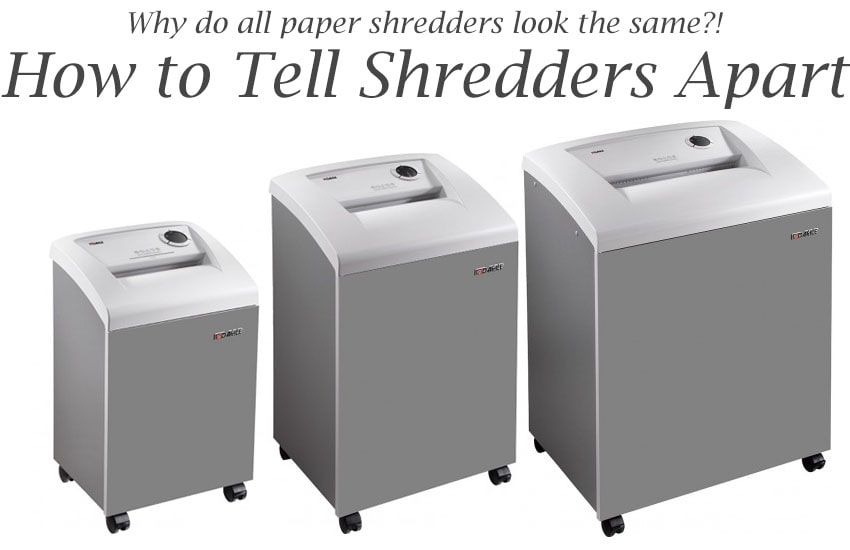 It can be super frustrating trying to figure out what shredder will be best for you, as well as even just telling them apart, when almost every single one of them looks near-identical to another. So why do all shredders look the same?!?! It can be a frustrating point when shopping, especially since so many of us are visual shoppers and prefer to actually see variances.
Well, it helps to think of it like this: while the 'box' may be the same, the 'guts' on the inside are what can vary drastically from one shredding machine to the next. In this guide, we will walk you through how to easily tell shredders apart when the visuals don't lend to it.
Security Level
One of the most important differences in shredders is the security level of shredding that they offer. In fact, this is often the top-deciding factor for buyers. Shredders come with security ratings from P1 to P7, P7 being the top-level that produces particles safe for use in even top-secret government organizations. Click here to learn all about the various security level options and the kinds of protections they offer.
Shred Type
There are three different shred types: strip cut, cross cut, and micro cross cut (or extreme cross cut). Cross cut are the most common option, whereas micro cross cuts are reserved primarily for very sensitive information, such as in medical groups and government agencies. Strip cuts are phasing out of the industry, and the only real benefit of these is that they can often handle very thick stacks at a time. You can click on the security level link above, which will explain more about these cut styles as well.
Shred Particle Size
The particle is what your paper is turned into after run through the shredder. The smaller the particle, the more difficult it would be to reconstruct. Two dimensions are used to describe particle size, and they are either listed in inches or millimeter, when extra-small. Typically this term is only used when it comes to cross cut and micro cross cut (not strip cut). Typically shred particles range from about 0.5" x 0.08" to < 0.01" x 0.04".
Oiling Capabilities
Oiling is a simple, but important, step to properly maintaining any shredder. Some shredders may have automatic oilers built-in, which is incredibly convenient since you won't have to think about how often you need to oil. Some more current shredders are even considered oil-free, meaning they don't need oil at all, which is more eco-friendly and convenient. But there are still many shredders that have to be oiled by hand. There are several oiling maintenance techniques, but nothing beats the convenience of not needing to oil at all (or letting it happen automatically).
Feed Width
What are the widest pages you will need to shred? Basic letter size 8-1/2", or over sizes 11"? Something else entirely? Make sure the feed opening on your shredder is larger than the widest sheet you will need to shred. We recommend at least 1/2" larger, however, 1" or more is better, in general, because it allows more wiggle room when sheets are not placed in perfectly straight.
Shred Capacity
Shred capacity is usually only a factor when an office needs a high-volume paper shredding machine; something to stick full stacks into, or something that can run all day long. High security paper shredders, like P-6 and P-7, will usually have smaller capacities because the cutting mechanism is more complex. Shopping by the intended user (for example: small office, or industrial) can also help narrow down your search to machines that will better match your needs.
Shredable Materials
Paper is obviously the most common material that needs to be shred, but it is often not the only. Some businesses need to shred digital media, like CDs and DVDs, and some simply don't want to bother with removing staples before shredding. Some businesses, and individuals, also like the ability to shred thicker laminated materials, like credit cards.
Special-Use Certifications
Directly related to the security levels, some paper shredders are secure enough to meet stringent guidelines like HIPAA for medical use, and US Army Reg. 380-5, and NSA/CSS 02-01 for government use. If your business or organizations has any special requirements, be sure to look for these details when shopping.
Shredding Speed
Shredding speed is typically listed as 'feet per minute', and is calculated when shredding letter size 8.5" x 11" 20 # bond paper, so it can vary depending on the paper stock and size, as well as the material being shred. Most personal and small office shredders are about 10 feet per minute, while larger office-level machines average closer to 20 or more. High speed shredders are almost always labeled as such, so this is an important buying factor for you, look for it in the title.
Waste-Bin Size
Waste bin size is an indicator of volume/recommended users. If your space allows, the bigger the waste bin the better (in general) because it means you have to empty it less-often, so it is less of a hassle.
For more information or a quote, call us at (866) 537-2244 (866) 537-2244 or email info@buy101.com

About the Author • Mallory Morsa has been a part of Binding101 since 2008 and has experience in several departments within the company. She began in customer service and sales where she honed in her skills to provide the customer with professional, fast, and accurate information. Shortly after, she was promoted to sales supervisor and also took on the role of product expert, training the team on new products. Throughout this time, she also wrote content for the site, as well as contributed stock photography and videography. As the team grew, she moved to an official position as the content specialist and social media manager. Her skills in these variety of areas give her the unique expertise to not just create content for the web, but to create content for you, the customer. She has a Bachelor's degree in business management and marketing, was on the Dean's List each year, and graduated Summa Cum Laude. In her free time, Mallory's favorite things to do include volunteering at the animal shelter by bottle feeding neonatal kittens, reading at the park, cooking plant-based meals, playing board games, and binge streaming TV shows with her 3 furbabies and family beside her.