Swipe to the left
How to Extend the Life of Your Binding Punch Pins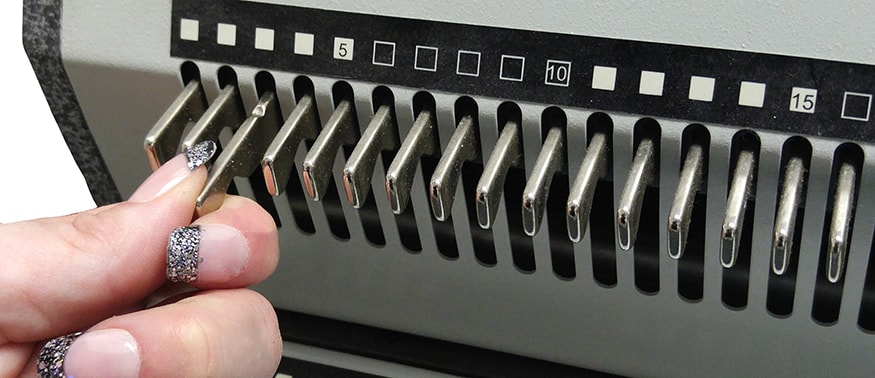 Punching pins are a wearable part of any binding punch machine, but with these 2 tips to extend the life of your pins, you can put off having to replace your pins for a longer period of time.

Keep the Pins Sharp
The sharper the pins, the better. Think of it like this...a sharp pin can more easily cut through paper, which reduces strain on the pin itself, as well as on the machine. If you're using an electric binding punch, it can protect the motor and internal parts from pre-mature wear and tear. If a manual machine, it can also reduce strain on your user when the pull on the punching handle. To help maintain the sharpness of your pins, you can punch a sheet of steel wool from time to time. Steel wool is a sheet of finely matted strands of steel, which can act as a "knife sharpener" of sorts for your punch pins.
Keep the Pins Clean
Punching paper of all kinds creates paper dust, and punching plastic materials, especially clear covers and and laminated stocks, can "dirty" the pins faster with residue. To keep your pins clean, simply punch a piece of wax paper from time to time to help remove the residue, and keep your punching pins clean.
Keep the Pins Oiled
There is a simple trick to keep your pins oiled, no matter what kind of binding punch you are using (manual or electric). Squeeze some oil onto a sheet of paper, and punch that page a couple times. Lubricating the punching pins will also extend their life, as it (again) reduces the strain needed to punch through paper and makes it easier to slide in and out. To prevent the oil from getting onto your actual jobs, punch scratch paper afterward until the oil does not show up around the holes.

About the Author • Hi! My name is Mallory Morsa, and I have been the product expert and content specialist at Binding101 since 2008 (I have practically grown up here!). Every day I push myself to learn new information, incorporating real-life experiences from myself and the entire team to create solutions to the most common problems in the industry, and then present those solutions in a way that is easy to understand for everyone, from novices to experts. I dive deep into products to figure out how they work from the core, and am always honest with my results, so that you know exactly what you will get, before you buy. Outside of work, I can be found snuggling my 3 furbabies, reading by the pool, or at my local animal shelter bottle feeding and volunteering for the kitten nursery.