There are many ways to bind paper, some of which are simply using loose binders like rings or posts, and others that use actual binding machines. Depending on your use, the kind of finished look you want, who will be doing the binding, and your budget, any of the following ways to bind paper may work well for you. As you're reviewing these different ways to bind pages together, know that you can always talk to one of our experts for help deciding by clicking that live chat button on your screen, calling us at (866) 537-2244, or emailing info@buy101.com.
How to Bind Paper with No Machine
If you're looking to learn how to bind paper without needing to buy an actual machine, then these several ways to bind will be a good fit. Take a browse below as we briefly discuss loose leaf binding solutions like book rings and Chicago screws, as well as spine binding that you can accomplish with just a few tools (and again, no expensive equipment). Solutions like these are not only great for individuals and small businesses, but for large businesses as well for quick and on-demand solutions.
Book Binding Rings
There are a wide variety of binding ring sizes and shapes to choose from as well as terminology that may not be easy to understand. Our selection of book binding rings includes a wide variety of colors, shapes, and even both metal and plastic options to choose from. When large documents require frequent editing, traditional binding may not be the best solution. Loose leaf binding rings, however, enable you to bind paper, swatches, scrapbooks, POP flip chart displays, crafts, gifts, home décor, and so much more with ease. Loose-leaf binding allows sheets of paper to be easily inserted or removed. They open and close easily, coming together with mated curves that snap when closed to ensure a secure bind. We offer a wide range of binding ring sizes: 3/4 to 3 inch. We also supply screw-lock rings, which provide a more secure method of binding documents, and a variety of plastic binding rings, which provide a fast and affordable solution for binding small books, presentations, and photo albums.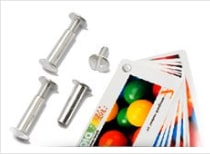 Binding Posts
Screw post binding is a popular binding method because it is durable, inexpensive, and simple. Best of all, screw and post binding requires no machines or special training. Aluminum binding screws, also known as Chicago screws or Chicago screw posts, are a necessity in terms of binding materials that need to be frequently edited or three-hole punched pages that do not belong in a ring binder. We offer several sizes and colors to choose from, including black, gold, silver, and antique brass. We also offer zinc-coated steel binding screw posts in an assortment of sizes, ranging from 1/4 in. – 2 in. You can easily expand the existing screw post capacity by adding post extensions and adjusting the size. These binding screws can be easily unbound and bound again when pages need to be edited. We offer several styles of plastic screw posts to choose from, such as posts with loops, push-lock binding screws, and snap-lock binding screw posts.
Hard Covers
With these unique Pinchbook hard covers, you can make DIY hard cover presentations in 5 seconds flat. Just print your report pages, open the covers all the way, insert your pages, and then close the covers. The patented clamping spine creates an incredibly tight hold for up to about 35 sheets (20 lb. bond paper), so you can use them for client presentations, financial reports, restaurant menus, real estate documentation, and so much more. To edit your pages, just repeat the same process of opening the covers, adding or removing pages, and closing them again. Without the need for any expensive equipment, and without the hassle of traditional punch-and-bind methods, you can make the most impressive presentation for your clients, whether small or high end, with these affordable hard covers. Choose from a huge variety of sizes and colors, some of which are available in either a cloth or a faux leather material. 1) Open the covers to open the spine clamp. 2) Insert your pages into the spine. 3) Close the covers - that's it, you're done!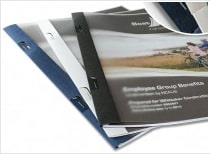 Side-Staple Covers
These side staple wrap-around report covers from Coverbind offer a fast and convenient way to bind thin documents, without the need of any special equipment. Simply place your sheets into the wrap-around cover, and staple* the two tabs on the spine. These tab cuts-outs allow you to open your cover completely, without moving the pages with the cover; a unique feature compared to other wrap-around options. The back covers and spines are made of a premium 80 lb. textured linen, and are available in white, black, or navy blue. The front cover is a 7 mil clear matte finish, so you can see your first page through, without harsh glare. This gives you the ability to customize each document individually by simply using your own printed first sheet. Officially known as Agility covers, these wrap-around report covers add sophistication to basic stapled documents, taking them up a notch in presentation. They will hold up to about 10 sheets* of paper and are very popular for businesses of all sizes and kinds for reports, presentations, reference books, and much more.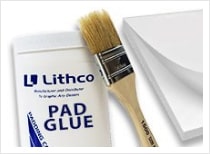 Note Pad Making
It's easy to make your own pads of paper with the right padding supplies and no need for a machine. We carry all the materials and tools you'll need to get started today and keep your location supplied with high-quality pads of paper at a fraction of the cost. With the high demand for paper in the healthcare, legal, and education fields, access to top-quality paper pads is a necessity. Instead of buying countless paper pads, which can be costly and inconvenient, consider investing in paper pad supplies to make them yourself — a cost-effective, efficient solution that is easy to master. Binding paper pads is a user-friendly, straightforward process with our tools there to help. To make pads of paper without a machine you will need a container of padding glue, a padding brush chip board backings, a paper clamp (like several binder clips or a table clamp).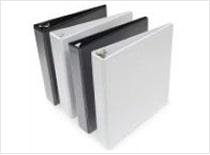 Ring Binders
Everyone has used a ring binder at one time or another, so you know how simple and effective they can be as a way to bind paper. With our extensive line of 3-ring binders and sheet protectors, you can easily organize paperwork of all kinds for your business, classroom, or individual filing needs. We offer two different kinds of binders, in a huge variety of ring sizes and colors, as well as sheet protectors to help keep your pages looking like new, even through heavy handling. Pair them with index tabs for a complete filing solution. Probably equally popular, we offer both clear view binders and poly plastic binders. Both options come in either a letter size for standard 8 ½" x 11" paper, or a half size for smaller 5 ½" x 8 ½" sheets (a letter size page, cut in half). All of these ring binder options are available in a huge selection of colors, including multiple shades of blues, greens, reds, and grays (as well as yellow, orange, purple, and many more), in addition to the traditional black and white binders. Ring sizes range from small ½" round rings, up to 4" slant-d rings for the clear view binders, or from ½" to 2" round rings for the poly ring binders.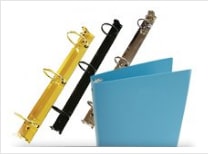 Ring Binder Spines
We offer a large selection of binder mechanisms for binders with two, three, or six rings. Our selection includes metal and plastic options to choose from, as well as a wide array of binder rivets in multiple sizes and colors to suit any application. Our selection of ring binder parts includes a variety of supplies to help you streamline bookbinding, archival, or other conservation projects. Binder mechanisms are the metal or plastic spines found in standard ring binders. This binder hardware is often used by production and manufacturing plants that choose to produce their own custom binders in-house. They are also particularly useful for real estate agencies, legal offices, or arts and crafts businesses. Letter size binder parts feature three rings with standard spacing between each ring. We carry black, brass, and silver in varying quantities, so you can stock up and save in the long run on future projects. Plastic mechanisms are made from a durable resin plastic material with a metal backing for added stability. We offer black, blue, gray, and white.
Binding Coils
Typically making a coil bound book is something that requires a binding machine, but in actuality, you can achieve the coil bound books easily without a machine of any kind! To do that you will need some pre-punched covers, pre-punched paper, the binding coils, and a hand crimper. Because all of the pages are pre-punched, and the coils can simple be rolled in through those holes by hand, there is no need for a spiral binding machine. This is best for thinner books, because hand-rolling in coils can be quite a hassle for thick ones, but it can be done for any. Binding coils are so fun and colorful, and with the ability to use them without buying a machine now easily available, anyone can do it.
How to Bind Paper with A Binding Machine
Probably the more traditional way to bind paper is by actually using a binding machine. These usually will be a puncher and a binder; the puncher that creates holes along your book, and the binder that attaches a spine. In addition to those punch-and-bind ways to bind paper, there is tape binding, thermal binding with heat, and other solutions as well. The most determining factors of which one will be the best way for you to bind your pages is going to be the finished look that you want, and your budget not just for the machine investment itself,but also for the consumable binding supplies moving forward. Take a look at some of the most common ways to bind pages with a machine, and remember, you can always call our experts at (866) 537-2244 for help choosing the best options.
Spiral Coil Binding
One way to bind paper with a machine is with a spiral binding machine. Also called plastic coil, spiral binders, these binding spines are flexible, simple, and actually quite fun. Coils are rolled through holes and then crimped on the edges to prevent them from rolling out. A coil binding machine has guides to properly align your sheets, either a handle or a button to punch the sheets, a curved table to help shape your spine and prepare it for the coil, and sometimes, an electric coil inserter to roll out coils in (or you can roll it in by hand). You can find coil binding machines made by some of the best brands in the finishing industry, such as Akiles, Rhin-O-Tuff, and James Burn. From tabletop to floor-standing models, we have all your needs covered in our collection of spiral binding machines. Unlike other binding styles, coil bound books have no spinal tension and the pages rotate around with the coil. As one of the few bookbinding methods that allows pages to fold and yet still remain flat, spiral binding is an excellent choice for cookbooks, directories, instruction manuals, proposals, sales presentations, and so much more. Plastic binding coil will hold its original shape when bent, making it the most durable binding spine option available. Coil binding machines come in all shapes and sizes to suit any application, and our wide selection makes the decision-making process easier than ever before. We supply both electric and manual models, all at competitive prices.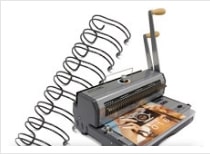 Wire-O Twin Loop Binding
Wire-O binding, also known as twin loop and double loop binding, is the go-to method for binding professionals who frequently produce documents that open 360 degrees or lay completely flat. Wire-O is cost-effective, easy, and efficient, so you can produce high-quality documents while improving production time from start to finish. Wire binding is ideal for booklets, calendars, cookbooks, directories, journals, maintenance manuals, music books, promotional brochures, reports, and presentations of any kind that require a professional finish. There is quite a wide selection of Wire-O binding equipment available from some of the best brands in the finishing industry, such as Akiles, James Burn, Rhin-O-Tuff, and more. Unlike the pages of a perfectly bound or saddle-stitched book, the pages of a wire-bound book rotate around the loops with little resistance. Without the spinal tension created from other binding methods, wire-bound pages stay put and allow you to view the content without having to hold the document open. Our Wire-O binding machine collection is stocked with a variety of desktop units and floor-standing models, so you are sure to find a solution that suits your daily binding needs. Using a continuous hinge of double wire loops, every wire binding machine we offer will securely hold book covers and pages together, delivering a clean and sophisticated look that is unsurpassed.
Plastic Comb Binding
Plastic comb binding is an economical choice that employs PVC plastic comb spines with round rings that are spread apart and then closed around a stack of paper. Along with the economical price benefits, this binding method is preferred for applications such as cookbooks and manuals that will be stacked on shelves because of the ability to custom print on the spines. We offer comb binding machines made by some of the most trusted brands in the business, including Akiles, Rhin-O-Tuff, Swingline, and many more.We offer comb binding machines at every price point, to ensure that customers like you gain access to cutting-edge technology while staying within your budget. If you require a solution for personal or low-volume book binding needs, look no further. We offer manual machines that are user-friendly while providing professional results. Many of these models can handle books as wide as 14 inches, which works great for offices that deal with letter size, legal size, half size, and other common page sizes.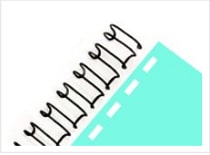 Spiral-O Wire Comb Binding
Spiral-O wire binding is a combination of traditional Wire-O binding wires and plastic binding combs...basically they are made just like twin loop wire bindings, but they are made in the plastic comb hole spacing, which means that they are compatible with standard comb binding machines. Just add a wire closer, and you're all set to elevate your traditional comb bound books to a more elegant and professional look of a wire bound solution. The sizes available are a bit less versatile than standard wire or comb, with smaller wires from 1/4" to 1" available, as well as just black and navy blue colors. They are stylish, professional, and make a great impression on clients; perfect for businesses that already have a comb machine and want the option to be able to bind wire from time to time without needing to buy an entire new machine or take up any more space in their office.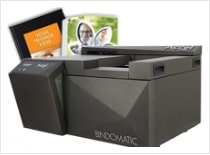 Thermal Binding
Thermal binding equipment that is efficient, precise, and, most importantly, cost-effective. Thermal binding delivers the fastest turnaround time when it comes to covers, presentations, reports, and other materials that require a professional finish. Thermal binding machines use heat to activate the glue in a document cover and form a secure bond with the interior pages. You can also add and remove pages by simply reheating the spine. We carry premium equipment made by brands that print professionals trust, such as Coverbind and UniBind. By combining innovative thermal binding technology with high-quality covers, you can produce flawlessly bound documents in no time at all. Increase output speeds, volume, and overall efficiency by investing in one of our thermal binding machines today.
Tape Strip Binding
When it comes to longevity, low maintenance, and quality of the bind, you simply won't find a better solution for your business than tape binding machines. These document binders allow you to create tape-bound books, photobooks, image strips, and so much more. Tape binding is a low-maintenance form of thermal binding that's ideally suited to making educational materials, technical manuals, mailers, and single-use publications. Although tape binding is an economical alternative to perfect binding and other methods, there is zero compromise on professional presentation. A tape binding machine creates a fine finish by applying a high-quality linen cloth binding strip to the spine of your assembled pages or signatures. Each strip comes pre-applied with a heat-activated adhesive that creates a strong bond once inserted into the binder. Tape binders help to improve your publishing processes. We proudly supply Fastback® tape binding machines with capacities ranging from 10 to 350 sheets to produce presentations, proposals, reports, and more. These easy-to-use binding machines are some of the simplest, fastest, and most attractive models on the market. Best of all, tape binding is completely automatic and requires no paper punching on your part. All the tape binding machines we carry were designed with operators in mind, so you can count on minimal cleanup and trouble-free maintenance for many years to come. Leave a lasting impression on clients, business partners, and suppliers by investing in the best tape binding device available.
Notepad Binding
There is no denying that paper is still a commonly used tool for communicative purposes. From taking notes for customers over the phone to leaving reminders and making to-do lists for the day ahead, padded paper is a mainstay which will never waiver in most industries. An easy way to achieve a quality solution is with a quality padding press. Easy to operate and offering great results with every proper implementation, padding press machines are used to create pads of paper with little effort on the part of the operator. Stacks of paper are placed in a padding machine that clamps them tightly into place. Padding compound is then applied by the user to the back edge of the paper stack using a padding brush. Once the pad glue is dry, the stack of paper is removed, separated, and can be cut down to size. With such ease of operation coupled with the professional grade results of the finished product, adding a paper padding press to your business is a smart move overall. Padding is widely used through a variety of industries including educational, legal, real estate, printing, engineering, healthcare and more. Almost everyone has a pad of paper within reach at all times, making the demand for padded paper very high.
Staple Binding
There are several different ways to "staple bind" your paper together, including basic office staplers that press a metal staple into your stack (usually placed on the corner or edge), saddle stitchers that use a spool of wire and cut and sew it into the spine of a folded stack of pages, and booklet makers that will fold your pages into a booklet and the staple the spines. There are also combination machines, like saddle stapler that let you spine staple without needing an actual stitcher. These methods of bindings are used a lot of churches as well as with publishers and magazine binders. Saddle stitching is a very popular book binding method that allows you to produce professional-quality books, catalogs, directories, pamphlets, promotional brochures, newsletters, wall calendars, and so much more. Booklet making can be simple with the right equipment at the ready.
Perfect Binding
Anyone can appreciate the beauty of a well-bound soft cover book, but few people understand the time and equipment it takes to produce reading materials of the highest quality. With perfect binding machines, you can create catalogs, directories, and paperback books to be proud of with every production cycle you run. Find everything you need to bind professional-quality softcover books, manuals, and so much more. With the right equipment and the supplies to match, binding paperback books with higher page counts will be consistent, faster, and more efficient overall. Perfect binding is a bookbinding method by which flexible adhesive attaches a paperback cover to the spine of assembled pages in a book or magazine. Once the adhesive binding machine collates all the signatures of a reading material, it roughens and flattens the edge of the spine area and applies the flexible adhesive. One main advantage of perfect binding is that it can be used with publications that are as much as several inches thick. If your booklets do not have many pages or aren't suitable for perfect binding, a square back binding machine may be the best solution. Square back binding falls aesthetically between perfect binding and saddle stitching, offering both the security of a saddle-stitched spine and the enhanced look of a perfectly bound square spine.

About the Author • Mallory Morsa has been part of Binding101 since 2008 and she is the primary content creator for BUY101® information. She has experience in several departments within the company. She began in customer service and sales where she honed in her skills to provide the customer with professional, fast, and accurate information. Shortly after, she was promoted to sales supervisor and also took on the role of product expert, training the team on new products. Throughout this time, she also wrote content for the site, as well as contributed stock photography and videography. As the team grew, she moves to an official position as the content specialist and social media manager. Her skills in these variety of areas give her the unique expertise to not just create content for the web, but to create content for you, the customer. She has a Bachelor's degree in business management and marketing, was on the Dean's List each year, and graduated Summa Cum Laude. In her free time, Mallory's favorite things to do include volunteering at the animal shelter by bottle feeding neonatal kittens, reading at the park, cooking plant-based meals, playing board games, and binge streaming TV shows with her 3 furbabies and family beside her.