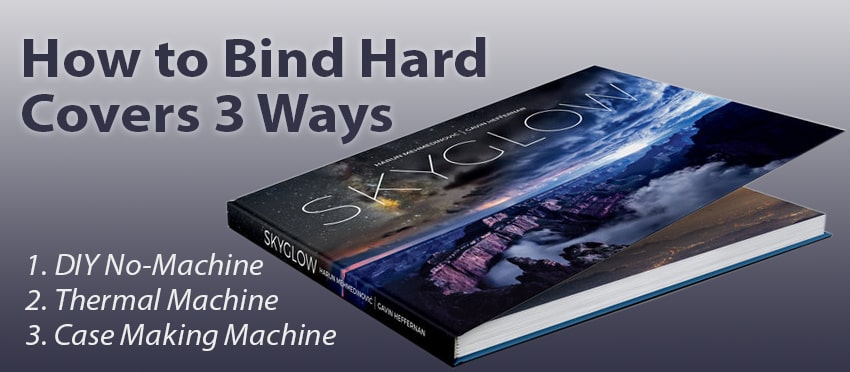 There are several different ways to easily bind hard cover documents. Whether you need to photo book bind or make hard cover presentations, these 3 solutions can get the job done. They range from easy DIY solutions to more complicated "from-scratch" hard cover makers. Whatever you decide, all 3 ways to bind hard covers will accomplish a professional finish. Option 1 is called a Pinchbook and is the DIY method that doesn't require any machine or tools to make. Option 2 is using a thermal binding machine. Option 3 is using a case making machine. Let's review in more detail...

1. Pinchbooks (DIY 5-Second Hard Covers, No Machine Required)
Pinchbooks are a perfect hard cover binding solution for everyone from individual users looking to make a photo book gift, to a business who needs a fast and simple way to make an impressive presentation. Incredibly popular for real estate agents especially, Pinchbooks can be made in only about 5 seconds; just print your pages, open the cover to open the patented spine, place your sheets into the spine, and close the cover. You are left with a strong bind that can be edited as often as you need, and a high quality finished hard cover document.
The fast that these covers are pre-made is a huge benefit. They are ready to go at all times, so you can use them for any on-demand hard cover binding need. Pinchbooks come in several sizes from 4" x 6" up to 12" x 12", including square, portrait, and landscape formats, as well as several colors, including black, navy, royal blue, red, pink, taupe. The material is a high quality linen texture that looks expensive, and some sizes in black also come in a faux vegan leather option for an even more expensive final look.
Just check out this video to show you just how fast and easy they are.

TIP: I recommend you have a lint roller handy. The linen cloth can hold onto fur and lint just like your black shirt and a lint roller can save you.
2. Thermal Binding (Machine Required, Covers Pre-Made, Easy Binding)
Thermal binding is another easy way to make hard cover books of all kinds. It requires the use of a thermal binding machine and pre-made thermal binding covers which have an adhesive in the spines. When the covers go into the machine, the adhesive is warmed and binds your pages into the cover.
There are a couple of different thermal binding brands. My favorite one is Coverbind because they have newer cover technology that creates a stronger bind, as well as newer technology in their machines that automates the process for larger volumes (something no other company has done). There is also Unibind, sometimes called steel binding, and Pro-Bind thermal binding.
One limitation is that the covers primarily are available in letter size portrait only. This is because it is the most common size used by businesses for presentations, so most customers don't have a problem. Plus, custom thermal binding covers can often be made special for you if you have more specific needs.
Here is a video of the Coverbind Accel Flex, which is the smallest binding machine they offer. Their Accel Cube and Accel Ultra are the automated thermal binding machine solutions for higher volume users.
TIP: Don't over-stuff your books; if you have too many pages in a book the glue won't saturate the pages properly and they could fall out.
3. Case Making (2 Machines Required, Make Covers from Scratch)
Case making is the more traditional way to hard cover bind, and is the primary method used by print shops and photography studios. This is because of the ability to create the hard cover completely from scratch, so you can customize it to any size and any cover material (including full printed covers). The entire process typically requires two machines; first making your hard cover with a case maker, and then binding the pages into that cover with a hot melt glue binding machine (also called a photo book binder or finisher).
I am a big fan of the Fastbind hard cover binding machines. For those who have never seen a case maker, they may seem a little intimidating at first; but they have a simplicity of design and function that makes them very easy to use and, once you get in a groove, very fast. Since there are two machines, we have two videos to show you for this process...the 1st is featuring the H32 case maker and the 2nd is the Elite hot melt perfect binding machine.

About the Author • Mallory Morsa has worked in several different departments in her 10+ years at Binding101. Beginning in customer service and sales, she honed in her skills to provide the customer with professional, fast, and accurate information. Shortly after, she was promoted to sales supervisor and also took on the role of product expert, training the team on new products and offering support wherever needed. Throughout this time, she also wrote content for the site, as well as contributed stock photography and videography. As the team grew, she was able to move to a new official position as the content specialist and social media manager. Her skills in these variety of areas give her the unique expertise to not just create content for the web, but to create content for YOU, the customer.

In her free time, Mallory's favorite things to do include volunteering at the animal shelter bottle feeding neonatal kittens, reading at the park, and binge streaming TV shows with her 3 furbabies and family beside her.