Swipe to the left
Everything You Need to Know about Screw Posts

If you're curious about binding with screw posts, but you want to learn all about them before you take the plunge, then this blog post is perfect for you! In it we will discuss everything you need to know about screw posts, including reviewing the options available, what they're most often used for, FAQs, and tips, tricks, and hacks along the way.
Screw Post Overview:
Screw post binding is one of the most simple options, so there really isn't too much explaining that needs to happen for the average user to understand how they work. Screw posts have two-pieces that are simply screwed together. These loose binding post mechanisms have one "male" side (the screw) and one "female" side (the post) that both feature corresponding threading, allowing for them to be spun together and stay together to create a secure bind, while still being able to be easily spun apart for editing.
Screw Post Choices:
There are a few different kinds of screw posts, differentiated by the material that they are made of. The two most popular choices are made of metal; one of aluminum and one of steel. Don't think of aluminum posts as being flimsy like a soda can, though; they are incredibly strong and durable. In fact, they are the top-choice for screw post binding of all kinds. Steel screw posts are a more common choice for heavy-handled documents, and those that may be out in the field, such as blueprints and the like. Both of these binding posts offer smooth slide closing and opening for quick and easy editing, while having a strong hold once tightened.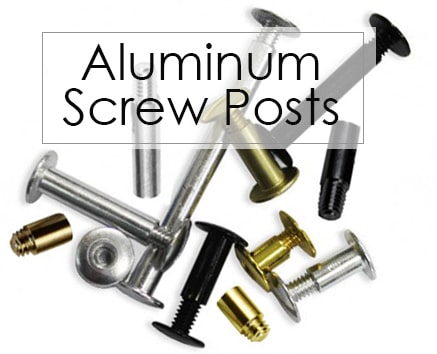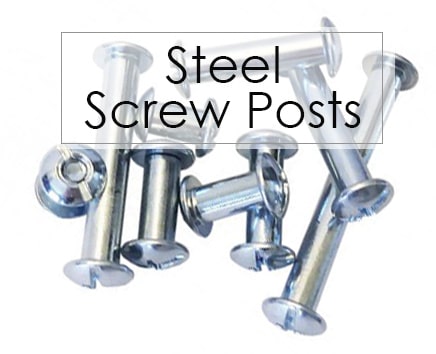 In addition to the above screw posts, there are also plastic posts that are often called "snap posts" because the threading is more of a locking mechanism, rather than an feature that enables editing. Sometimes they can be lined up and screwed together, but most people simply press them together. Depending on the size and user's strength, sometimes that creates a near-permanent bind.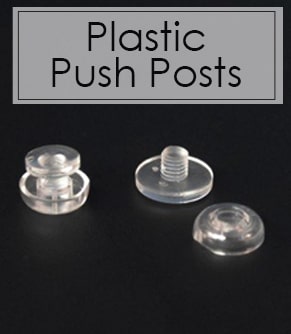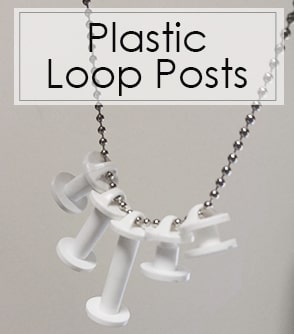 Screw Post FAQs:
What sizes do screw posts come in? Screw posts come in a huge range of sizes from tiny posts to find a couple pages to extra long 5" options. Aluminum book binding posts have the longest options, as well as extensions in several sizes that can be screwed in-between the pieces to make them longer. Steel chicago screws also have some smaller extension bars that can be added to make them longer.
What colors do screw posts come in? The standard and most common screw post color is a basic silver. The silver has the most range of sizes available. They also come in black, gold, and antique brass options.
Other Names for Screw Posts:
Screw posts are called by many things... it kind of depends on what your industry is. For example, those in the construction and architecture industries usually ask us for "Chicago screws" or "sex screws" while those in office or corporate industries call them "book binding posts", "book screws", or even "binding bars".
Popular Uses for Screw Posts:
Screw posts are used to bind together any loose sheets of paper you may want; presentations, blueprints, journals, binders, or anything else. They are also used for sign hanging, holding mount boards together, for crafts and projects, and more. Screw posts are fast and convenient. They go through any standard hole punch, so you don't need a special binding machine; just a hole puncher. Their huge binding capacity and ability to expand with extensions are another great feature that customers love. Plus, they are inexpensive. All of these factors combine to make an appealing binding solution for all kinds of businesses and individuals, with a huge variety of intended applications.
How to Bind with a Screw Post:
Binding pages with a screw post is simple! Punch your holes (as many as you want), insert the post end through the hole, and then twist the screw end in until it is tight. Sometimes using a screwdriver to really tighten it is helpful, but usually, twisting by hand is plenty strong.
Tips, Tricks, & Hacks for Screw Posts:
Because screw posts are loose, and not connected, your bound book will be more flexible than traditional bound books. For that reason, one trick to get it to be more sturdy is to use a thicker binding cover. Something like a vinyl cover, chipboard sheet, poly matte frost, or even punchable hard covers are a great choice.
You can use any standard hole punch with your screw posts. They should make about a 1/4" diameter hole size, which is perfect for all styles of binding posts, no matter the material or length. Many users will choose a 3-hole punch and add 3 bindings, but may choose to do a 2-hole or even a single hole in the corner instead. But since they are a loose binding, you can use as many or as few as you want. If you're making a small swatch you may just use 1, but if you're making a presentation you might want to use 3 or even 4-5 for extra stability.
And here's one final tip we will leave you with: if you're buying more than 10 packs of posts, you can call us at (866)537-2244 (866)537-2244 and request a bulk discount!

About the Author • Mallory Morsa has been a part of Binding101 since 2008 and has experience in several departments within the company. She began in customer service and sales where she honed in her skills to provide the customer with professional, fast, and accurate information. Shortly after, she was promoted to sales supervisor and also took on the role of product expert, training the team on new products. Throughout this time, she also wrote content for the site, as well as contributed stock photography and videography. As the team grew, she moves to an official position as the content specialist and social media manager. Her skills in these variety of areas give her the unique expertise to not just create content for the web, but to create content for you, the customer. She has a Bachelor's degree in business management and marketing, was on the Dean's List each year, and graduated Summa Cum Laude. In her free time, Mallory's favorite things to do include volunteering at the animal shelter by bottle feeding neonatal kittens, reading at the park, cooking plant-based meals, playing board games, and binge streaming TV shows with her 3 furbabies and family beside her.