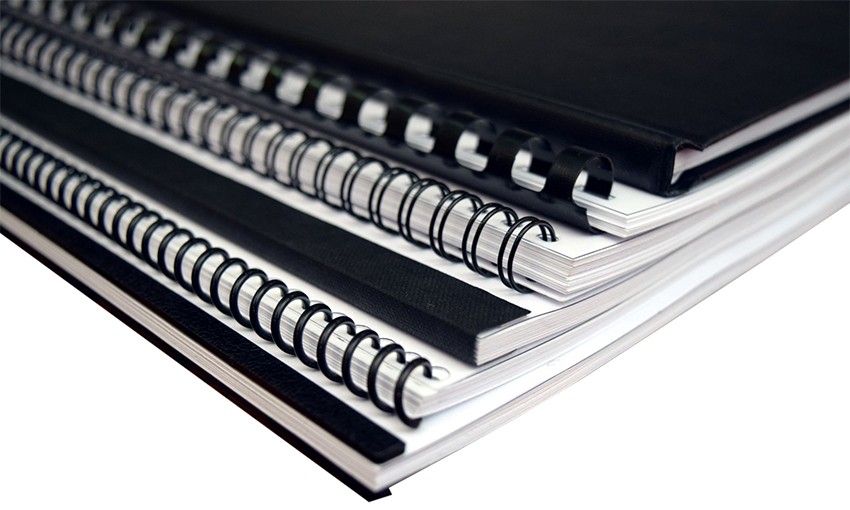 BINDING MACHINES & SUPPLIES
The best way to know how to choose what kind of binding is best for you is to have a general understanding of each option. Below we give you a quick overview of the different binding styles out there, so you can decide the best binding machine for your specific needs.
Coil Binding
Coil binding -- also called spiral binding or plastic coils-- is a traditional punch-and-bind method to which the coil machine will punch many closely spaced round holes along an edge. The binding coil would then be rolled in through these holes, and the ends crimped in to prevent them from rolling out.
Spiral coil binding is actually our #1 seller when it comes to punch and bind methods. The most notable reasons why coil binding is so popular include the fact that they have bounce-back with the flexible plastic they are made from, which makes them very durable to heavy handling; you can bend the coil, and it will bend back. Coil binders can also bind some pretty thick books, up to about 1¾" or so (about 425 sheets) with a 50mm coil. There are also a lot of colors to choose from, so brand-matching or offering versatility is easy. Coil binding spines are also quite affordable when compared to some other options.
Comb Binding
Comb binding --also called GBC combs or plastic bindings-- is another top seller in the punch-and-bind category of machines. Comb bind machines punch rectangular holes, spaced with 19 holes along a standard 11" edge. You just punch the holes, open the comb spine with a spreader, place your sheets into the prongs, and then close the comb spine.
Plastic GBC binding combs are popular because they are the most affordable way to punch-and-bind, can bind up to 425 pages with a 2" comb, and can be custom printed on. You will most often find comb binding systems at schools and businesses, as well as on your cookbooks. Binding combs can also easily be edited over and over again by just opening up the spine again, so they can be reused as many times as you may need. Comb binders are not the most professional way to bind, though, so may not be best suited for high level client reports, and other documents where the presentation is very important.
Wire Binding
Wire binding is a more professional punch-and-bind option since it is made from actual wire, rather than plastic. Also called twin-loop or double-o wire, these binding spines are closed around your punched pages. Holes can either be square or round, depending on your wire binding machine, and the binding wires come in two different loop spacings. This spacing is called the pitch, and small wires for thin books are a 3:1 pitch (three-to-one), while larger wires for thicker books are a 2:1 pitch. This ratio refers to the number of holes per inch.
Wire-O binding is the premier choice when it comes to punch-and-bind. They look clean and very professional, so can give your presentation a new look. Wire bindings also let your pages turn all the way around (back to back, called 360° page turning) and offer perfect registration of your pages, meaning that they will always be nice and square, including when laying flat or when the pages are turned over on one another.
Thermal Binding
Thermal binding is our first binding method that doesn't require any hole punching to bind pages. In the last several years it has made a comeback in the industry because of just how easy it is, how fast it is, and because of how professional the finished books look. Thermal binding uses pre-made covers that wrap around your entire book, so you get a front cover, a back cover, and the spine. The thermal binding covers come in both soft cover and hard cover options, so they also add more versatility of look than any other option. They all feature a binding glue that is pre-applied into the spine.
As the name implies, thermal binding uses heat to melt the glue and bind your pages into the covers. Thermal binding machines come in a few different models; one that is manual where you move the cover from the heating plate to the cooling plate, and others that are automatic, where you just drop your book in and then walk away while it moves through the process.
Tape Binding
Tape binding --also called strip binding-- is a binding method that uses a binding strip made of fabric with a heat-activated glue pre-applied. The method is incredibly simple; you place your book into the tape binding machine and it will tell you what size strip to use. You then insert the strip, and it automatically binds for you.
Fastback is the best known brand in the tape strip game. The machines and supplies can be a little pricey, so the users of this method are typically larger offices that bind daily.
Staple Binding
Staple binding can be done a few different ways:

(1) With a standard stapler, either stapled in the corner or along the binding edge. No special equipment is needed, you just use any stapler that can handle the capacity if your pages. You can also pair this with some staple wrap-around covers to make them a bit more presentable.
(2) Saddle stapling with a saddle stapler. This stapler has a saddle-like base that you can set a stack of folded sheets over, and then staple on the spine. This is often used for booklets.
(3) Saddle stitching with a stitching machine. These machines use a continuous spool of stitching wire to "staple" on the spine of a booklet (also called magazine binding). They sew in the wire and cut them to create staples.
Notepad Binding
Also called padding or pad binding, notepad binding is simple and can be done in batches for quick bulk output, or be made individually. Because padding involves a pad compound that has to dry, you will need at least 30 minutes for this binding method. But if you have the time, it is a great way to make gifts for your staff or to sell as POP at your shop.
You can make notepads with a vice called a padding press, or with some simple tools for smaller volumes. A padding press lets you make books in bulk and then cut the glue with a pad knife once dry. Or with some tools you might have around your house, an individual can make them with binder clips or table clamps instead.
Velo Binding
Velo binding is primarily used in the legal industry. This is because the hard plastic velo binding strips are melted together in a way that is very difficult to unbind. This semi-permanent binding method can only be taken apart with a special debinder, which means they are tamper-proof and perfect for legal briefs and more.
Velo binding strips can bind up to 3" thick documents, which makes them the highest capacity binders except for screw posts (find info on posts below). The velo machines are large and expensive, so are only really used by law firms and print shops or binderies. The machines will punch 11 small round holes in your pages, and then melt two binding strips together to finish the bind.
Perfect Binding
Perfect binding is the official name for soft cover binding, such as those you would see on novels and other published books. Perfect binding machines take up a bit of space, even the tabletop units, so they are used by publishers and print shops almost exclusively. The machine has a nipping tool that texturizes your binding edge, a glue tank that will apply glue to the edge, and then attach the book block to your own cover, which it creases to fit the spine. The process is typically pretty automated, while the operator simply loads and unloads, depending on the model. Soft cover binding uses your own binding covers, so there is no limitation to the final look.
Hardcover Binding / Case Making
Hardcover binding involves a two-step process of first making the hard cover from scratch (called case making) and then binding in the book block. This binding method is almost exclusive used by publishing and print shops because of the involved binding process. Though the machines look a bit intimidating compared to other binding machines, they are actually pretty easy to use.
Modular Binding
Modular binding means that your machine can punch the hole patterns needed for a variety of different binding types, with just the change-out of a punching die. Made for the heavier duty punch-and-bind needs, these machines are punch-only and are incredibly versatile; just buy the dies for whatever punching pattern you need (or even have a custom die made) and the single unit can turn into a multi-function puncher.
BINDING ACCESSORIES
Binding Workstations
You can put your desktop binding machines anywhere in your office, but with a binding workstation you also get the added benefit of storage that was specifically designed for binding supplies. Give your office machinery instant mobility and added convenience with a storage or mobile workstation cart.
Comb Openers
A comb opener, or comb spreader, is a required unit for GBC plastic binding. This is the tool that actually opens up the comb so you can place your pages on, and then closes them again. Many comb binding machines already have an integrated comb opener, however, some people prefer to have a separate unit for more of an assembly-line operation. Those with modular punches also need to get the binding modules separately (some can be mounted onto the punch).
Wire Closers
Just like a comb opener, a wire closer is required with binding with twin loop Wire-O. These units can be set to the wire diameter of your book, and will then pinch your wire closed around the pages. A good wire closer with an accurate size guide is important to ensure a perfectly circular closed wire. Many wire punch machines have the closer already attached, but some may want to have it separate so one person can punch, and another and close the wires to bind.
Coil Inserters
A coil inserter can dramatically increase the speed of coil binding. Usually you would have to manually roll in the coil through all of the holes; for a standard binding edge, this is usually about 44 holes. This can be a time consuming task, especially with thicker books. A coil inserter, however, features an electric roller that will grip the coil and roll it through your pages. Though not necessary for all users, anyone who has to bind daily would likely benefit from adding an electric roller inserter to their lineup.
Coil Crimpers
A coil crimper is needed with spiral coil binding, and will trim the edge of your coil while simultaneously bending it in, which will stop the coil from rolling out of your book. Crimping pliers are available for manual crimping, or electric one and two-side spiral crimping machines are also available for higher volume needs.
BINDING WITHOUT A MACHINE
You don't actually need a binding machine to bind a document! Depending on the function and the final look you want to achieve, there are several loose leaf and no-machine binding options that could work well for you. Typically these binders are less expensive than with a machine, and can often be quite a bit faster and easier as well.
Ring Binders
The most common way that people bind pages together without a machine is with a ring binder. Typically with 3-rings, these binders hold loos pages that are punched with corresponding holes. Often times they are also paired with index tab dividers.
Loose Binding Rings
Loose binding rings are simply that; the same kind of ring-style that would be seen in a binder, but since there is no attached spine, you can use a single ring, or as many rings as you need to bind your pages. Loose leaf binding rings are also very popular, and so simple. They come in both metal and plastic varieties, and are affordable and easy to attain by any user.
Binding Posts
Binding posts, also known as Chicago screws or screw posts, and another quick and easy way to bind pages. They come in metal and plastic options, the metal posts being able to bind huge stacks of paper, even up to 5" or more. Extension pieces can also be added to some styles, so you can expand the capacity even more. They are a two-piece set in which the post side is pressed through the holes, and then the screw end is simply spun into it.
DIY Hard Covers
With a Pinchbook you can make a hard cover presentation without any machine. They are actually the easiest and fastest way to make a hard cover book, as they can only take a few seconds to make. Print your pages, open the cover, insert the pages, and then close the cover for a finished bound book. They can be re-opened and edited as many times as you need. There are quite a variety of sizes and colors you can get. The only limitation here is the limited number of pages you can bind, which maxes out at about 35 sheets.
Prong Fasteners
Prong fasteners have a capacity of up to about 3½" and can easily be edited. They have two prongs that will go into two punched holes, typically placed on the short-end of your pages. The flexible metal prongs fold around your pages to bind them. You can find prong fasteners in schools, doctors' offices, etc.

About the Author • Mallory Morsa has worked in several different departments in her 10+ years at Binding101. Beginning in customer service and sales, she honed in her skills to provide the customer with professional, fast, and accurate information. Shortly after, she was promoted to sales supervisor and also took on the role of product expert, training the team on new products and offering support wherever needed. Throughout this time, she also wrote content for the site, as well as contributed stock photography and videography. As the team grew, she was able to move to a new official position as the content specialist and social media manager. Her skills in these variety of areas give her the unique expertise to not just create content for the web, but to create content for YOU, the customer.

In her free time, Mallory's favorite things to do include volunteering at the animal shelter bottle feeding neonatal kittens, reading at the park, and binge streaming TV shows with her 3 furbabies and family beside her.