We've put together some of our favorite counter display ideas to share, and are excited to do so today. These options are incredibly simple, fast to make, and affordable for anyone (even family-owned small shops), all while remaining very professional. This list of tabletop displays won't require any machines or special equipment; just whatever printer you typically use for your signs. They may also include some wall displays for above the counter, leaving that counter space free, which is especially helpful for those with little space.
So let's dive in! First we'll give you the quick list, then just scroll down to just below that and we will give you additional details and some photos to help you choose.
Stick-On Easel Backs
Glue-On Easel Backs
Slide-On Easel Backs
Acrylic Slanted Sign Holders
Acrylic T-Style Sign Holders
Acrylic Wall-Hanging Brochure Holders
Counter Mat Sign Holders
Magnetic Sign Holders
Adhesive Sign Holders
Ok, so let's dive into these various options with a bit more detail...
Stick-On Easel Backs
Self-stick easel backs make creating stand-up displays easy. Simply peel off the adhesive liners and stick your mounting board or semi-rigid poster board to the cardboard easel. Available colors include black, natural kraft and white. The wide variety of sizes ranging from 3" high up to 72" high allow for many different applications such table-top or floor POP displays for trade shows, counter-top and floor standing signs, photos, artwork, and are perfect for presentations.
Glue-On Easel Backs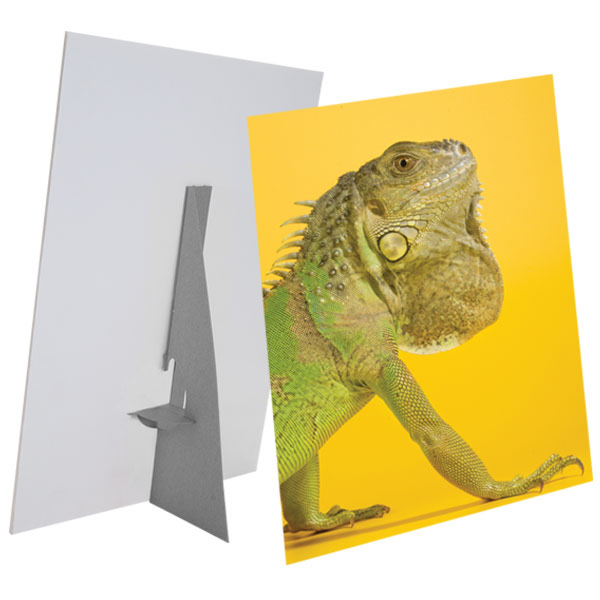 These glue-on easel backs let you quickly create professional signs and displays. Just apply your glue of choice to the easel and stick-on your print or board. They are easy to use and durable, made of a 75 pt. gray chip board. These medium easel backs are great for tabletop POP ads and marketing, and can be doubled-up for larger boards when you need more stability. Choose from single-wing or double-wing styles in several select sizes.
Slide-On Easel Backs
These slide-on tabletop easel displays come with the double-wing easel board and a clear sheet that slides down over the board, encasing your printed sheet. This makes them completely editable, while the clear cover protects your display to keep it looking new, longer. Choose from two different size easel sign holders, including 8 ½" x 11" and 11" x 14" portrait displays.
Acrylic Slanted Sign Holders
These slanted tabletop sign holders are made of a crystal clear acrylic that displays your media perfectly, without distorting the view area. The acrylic is durable and built to stand up to handling. Single-sheet displays are easy to change out with a side-loading design that is great for promotions, product information, price sheets, photos, and so much more. These standard counter displays come in several sizes including 4" x 6", 5" x 7" and letter size 8 ½" x 11" in both landscape and portrait formats.
Acrylic T-Style Sign Holders
T-style single sheet literature holders work as counter displays for media, promotions, pricing sheets, photos, and much more. They are made of a very clear acrylic that won't distort or cover any part of your image, so you get the full impact of your media. Available in several sizes, they feature a base piece on the front and back of the vertical holder itself, which makes for a stable display to help prevent toppling over if bumped. Easy top-loading design makes changing your insert fast. The straight-up design offers one or two-sided advertising opportunities for double the exposure.
Acrylic Wall-Hanging Brochure Holders
Use these wall mount literature holders to display brochures, pamphlets and more, without taking up any counter or table space. The clear acrylic look won't obstruct the view of your inserts, so you have full marketing and viewing potential. You can buy wall mount literature holders online in several different sizes.
Counter Mat Sign Holders
Use your counter space more efficiently to advertise your business, promotions, or affiliates with our counter mat sign holders. These promotional displays feature a 1/16" thick non-slip rubber backing that holds onto your counter, without the need for adhesive, making them completely mobile and removable with no residue. The clear window is made of a 15 mil scratch-resistant vinyl, so it can withstand customers setting their purses, products, change, and other items on it, without getting damaged. It features a 1" thick black border that helps bring attention to your display. These rubber counter mat displays are sealed on three sides with a pocket opening on the long end so you can easily insert, remove, and edit your media as often as needed, while still resting easy knowing it won't slide out on its own. Choose from two popular sizes.
Magnetic Sign Holders
Magnetic sign holders feature gripper fins that hold onto your signs and papers. The firm grip combined with a strong magnet makes magnetic sign holders a durable and reliable solution for inventory labeling, shelf signs and so much more. For larger signs, multiple holders can be used for added strength. Most sizes are available in two styles: a standard style that will hold your sign perpendicular to the wall, or a hinged style that can be pressed forward and back 180° and return back to its original position when bumped, making it ideal for high traffic areas.
Adhesive Sign Holders
These gripper adhesive table-top sign holders offer a stable and clean way to display signs, promotions and point of purchase displays. The "gripper" fins on these sign holders allow for a thicker poster or paper to be displayed, as they will grip thin paper and thicker boards. Available in many sizes, these hinged sign holders are most often applied vertically onto walls. The adhesive is strong, and will work well with most flat, clean surfaces.
For more information or a quote, call us at (866) 537-2244 (866) 537-2244 or email info@buy101.com

About the Author • Mallory Morsa has been part of Binding101 since 2008 and she is the primary content creator for BUY101® information. She began in customer service and sales where she honed in her skills to provide the customer with professional, fast, and accurate information. Shortly after, she was promoted to sales supervisor and also took on the role of product expert, training the team on new products. Throughout this time, she also wrote content for the site, as well as contributed stock photography and videography. As the team grew, she moved to an official position as the content specialist and social media manager. Her skills in these variety of areas give her the unique expertise to not just create content for the web, but to create content for you, the customer. She has a Bachelor's degree in business management and marketing, was on the Dean's List each year, and graduated Summa Cum Laude. In her free time, Mallory's favorite things to do include volunteering at the animal shelter by bottle feeding neonatal kittens, reading at the park, cooking plant-based meals, playing board games, hiking, and binge streaming TV shows with her furbabies and family beside her.