Cutting multiple sheets of paper is easy work for a guillotine cutter, but when you need to cut an entire stack there's no better tool then a Dahle Professional Series Stack Cutter. These industrial workhorse paper cutters offer the precision you need along with the safety you demand and deserve. Increase the efficiency of your tasks as well as provide a safe and simple cutting experience with a Dahle Professional Paper Stack Cutter.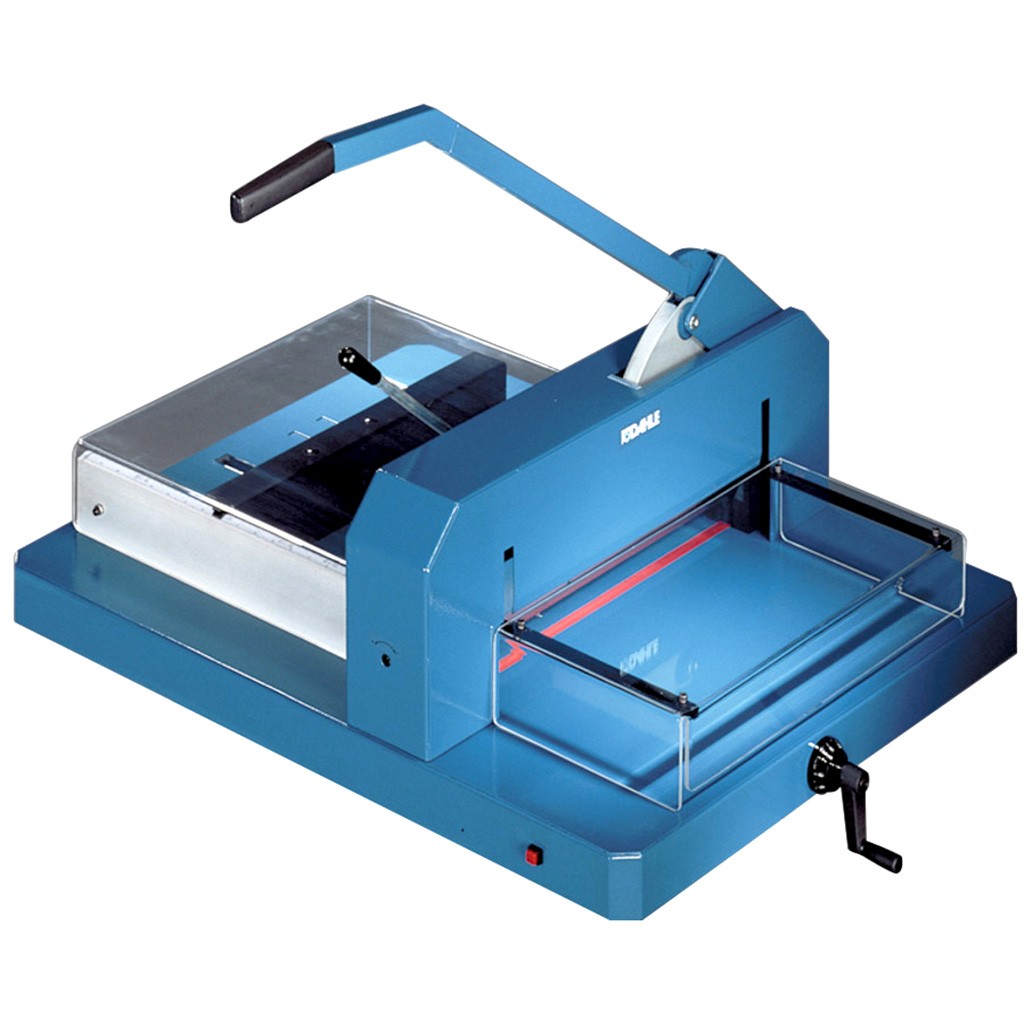 Dahle Professional Cutters are available in three different models" the 842, 846 and 848. The only difference between these three models is the cutting length and stack thickness capacity; as the cutting length gets longer, the cutting capacity gets thicker as well. Below we review why we feel the Dahle Professional Paper Cutter are a great choice nearly all stack cutting needs.
Dahle Professional Guillotine Cutter Comparison
Use the information in this chart to compare the three different Dahle Professional Guillotine cutters.
The Dahle Professional Series Model 842 is a 16 ⁷/₈" Paper Stack Cutter that cuts a stack of paper as thick as about 200 sheets of 20 pound paper in just one slice. The Model 846 cuts through 16 ⁷/₈" wide and up to 500 sheets of paper at a time, and the Model 848 cuts though up 18 ⁵/₈" wide and up to 700 sheets at a time.
For all models, a safety shield is featured on both sides of the cutting blade and will not allow the blade to move while they are in the up position, providing the optimum safety for your operator. A clean, burr free cut through such a large stack of paper is hard to find... Dahle Professional cutters make it possible through a ground solingen steel blade and clamping system that places firm and even pressure across the entire cutting surface. The model 846 also features a spindle driven self-locking backstop for extreme accuracy and repetitive cutting.
The Dahle Professional Stack Cutters can be mounted on any secure table surface, however, an optional floor stand is also available for each model. All Dahle cutters are manufactured for strength and reliability in Germany and can be found in art departments, custom frame shops, print & copy centers, and many other facilities throughout the world.
*May vary depending on paper stock.

About the Author • Hi! My name is Mallory Morsa, and I have been the product expert and content specialist at Binding101 since 2008 (I have practically grown up here!). Every day I push myself to learn new information, incorporating real-life experiences from myself and the entire team to create solutions to the most common problems in the industry, and then present those solutions in a way that is easy to understand for everyone, from novices to experts. I dive deep into products to figure out how they work from the core, and am always honest with my results, so that you know exactly what you will get, before you buy. Outside of work, I can be found snuggling my 3 furbabies, reading by the pool, or at my local animal shelter bottle feeding and volunteering for the kitten nursery.