Ever since the CSTIDY-41 grommet press came to market, it has been difficult to keep on the shelves! This popular grommeting machine is small enough to fit on a tabletop, but with a pneumatic powered operation, which makes it exceptionally strong and powerful. It is actually the only pneumatic desktop grommet press; which is probably why people are going crazy over it.

On its own, the CSTIDY-41 sells for about $1,000 and it incredibly efficient and fast. But there are also add-on's and accessories that you can purchase to make it perform even better for your individual needs.
1. Activation Attachment
You can choose whether you want this grommet press with a push button activation, a foot pedal, or a combination of the two to give your operators more choices. They all come with a standard trigger activation, but as a secondary option, you can add either the button or pedal. For some applications, a foot pedal might be easier so both hands can be used to handle the materials. But for others, an activation button may make more sense.
2. LED Pointer
Adding the EyeleD positioning pointer helps make grommet placement more accurate, showing you exactly where the center of your grommet hole will appear once set. The red color is easy to see without causing strain to the eyes, and the double-circle guide makes proper placement even easier. Simple to install, the LED kit comes with the pointer itself, a mounting bracket, a power cable, and a portable battery holder for mobile use.
3. Work Table
The CSTIDY-41 will fit on any work surface you wish to use, but adding the specially-designed stand, you get the most convenient table possible. The machine is mounted into place, ensuring the most stable possible starting position. There are 3 additional mounting depths you can choose from, including one that makes the actual grommet surface flush with the table top. This stand features two buckets, one on each side of the press, where you can store grommets and washers within reach and without risk of them falling on the floor. The height of the CSTIDY-41 stand is adjustable so you can set the optimum height for your workers, reducing strain. At the base is a foot pedal mounting bar so you can keep your foot pedal firmly in-place for right and left-foot use.
4. Mobile Cart
If, instead, you want a small cart that makes the press easier to move around, you can use the mobile cart. This is especially convenient for very long materials so you can move the press from location-to-location, rather than your large material sheet. The 4 rolling castors lock in place for a staple grommet station, and one bucket on each side make for easy storage of grommets and washers. Your CSTIDY-41 mounts recessed into the cart to keep the actual grommet surface as close to your working materials as possible, which helps ensure accuracy.
5. FRL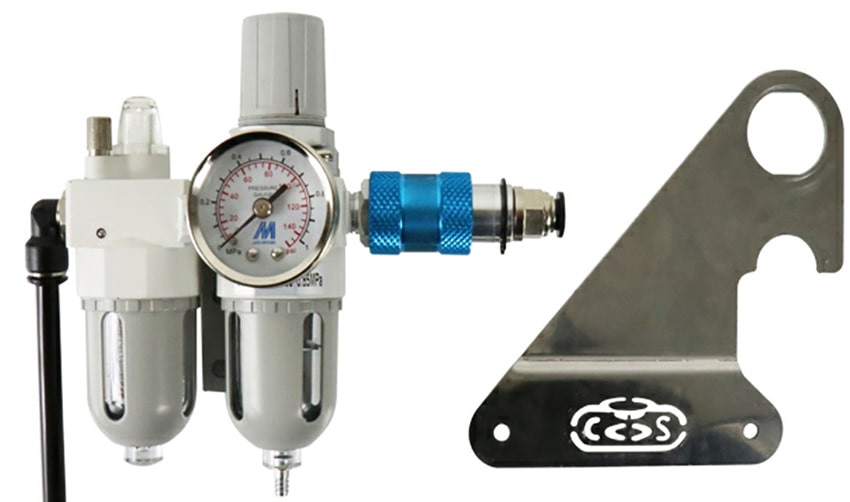 The FRL is a filter, regular, and lubricator attachment that helps protect the pneumatic components of the CSTIDY-41, defending your investment from potential costly repairs or replacement. The filter prevents moisture and debris from entering the machine, the regulator ensures only the proper amount of air is used, and the lubricator keeps the components running smoothly. The FRL is easily mounted onto your machine, and offers a quick-release side valve to give you full control to cut off air and discharge the cylinder when needed.
6. GrommetSniper
The GrommetSniper is an alignment guide that easily lays on on the work surface of the CSTIDY-41 and has an extendable measuring arm so you can easily measure and mark items up to 24" away from the setting location. Help ensure accuracy while making transitions from one grommet to the next easier with this simple tool.
For more information or a quote, call us at (866) 537-2244 (866) 537-2244 or email info@buy101.com

About the Author • Mallory Morsa has been a part of Binding101 since 2008 and has experience in several departments within the company. She began in customer service and sales where she honed in her skills to provide the customer with professional, fast, and accurate information. Shortly after, she was promoted to sales supervisor and also took on the role of product expert, training the team on new products. Throughout this time, she also wrote content for the site, as well as contributed stock photography and videography. As the team grew, she moved to an official position as the content specialist and social media manager. Her skills in these variety of areas give her the unique expertise to not just create content for the web, but to create content for you, the customer. She has a Bachelor's degree in business management and marketing, was on the Dean's List each year, and graduated Summa Cum Laude. In her free time, Mallory's favorite things to do include volunteering at the animal shelter by bottle feeding neonatal kittens, reading at the park, cooking plant-based meals, playing board games, and binge streaming TV shows with her 3 furbabies and family beside her.