Corner rounding is a popular finishing technique for paper products of all kinds. Business cards, letterhead, brochures, signs, presentation materials, and so much more. The size and shape of corner you want will usually vary depending on the size of your finished sheet. Whether you are an office or a print shop, you can benefit from the smooth, aesthetic look of a rounded corner.
Many corner rounders are capable of making different corner shapes by simply changing out the die. More accurately, however, these are called different radius sizes (or radii). You can make larger rounded edges with a larger size, which is great for wide format paper and foam boards, or smaller more tight rounded corners with the smaller size dies.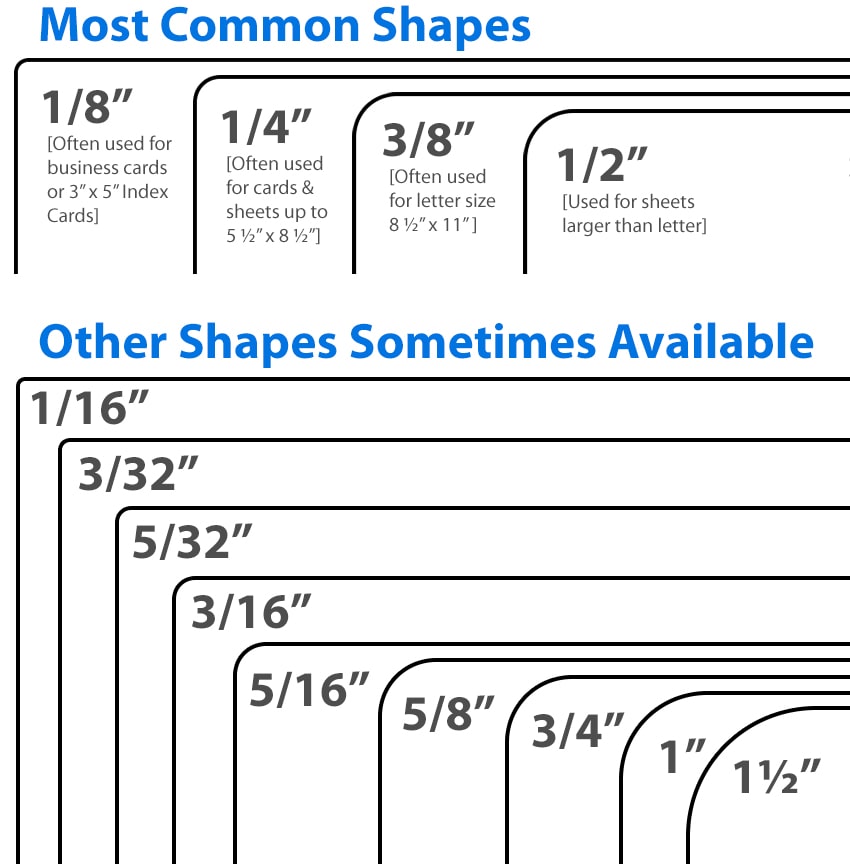 For more information or a quote, call us at (866) 537-2244 (866) 537-2244 or email info@buy101.com

About the Author • Mallory Morsa has been a part of Binding101 since 2008 and has experience in several departments within the company. She began in customer service and sales where she honed in her skills to provide the customer with professional, fast, and accurate information. Shortly after, she was promoted to sales supervisor and also took on the role of product expert, training the team on new products. Throughout this time, she also wrote content for the site, as well as contributed stock photography and videography. As the team grew, she moved to an official position as the content specialist and social media manager. Her skills in these variety of areas give her the unique expertise to not just create content for the web, but to create content for you, the customer. She has a Bachelor's degree in business management and marketing, was on the Dean's List each year, and graduated Summa Cum Laude. In her free time, Mallory's favorite things to do include volunteering at the animal shelter by bottle feeding neonatal kittens, reading at the park, cooking plant-based meals, playing board games, and binge streaming TV shows with her 3 furbabies and family beside her.