Swipe to the left
Are 4:1 or 5:1 Pitch Binding Coils Better?
When it comes to the pitch on binding coils, it is not really a matter of which is better, but more a matter of which is compatible, more readily available, and more affordable. Of course, compatibility will be the the most important consideration, because once you choose a binding pitch, you have to stick with it. But maybe I am getting ahead of myself. First, let's talk about what "pitch" actually means in this context.
What does "pitch" mean when it comes to binding?
When we're talking about document binding, the term "pitch" refers to the hole pattern of the punch. It is indicated in a ratio format, in this case, 4:1 or 5:1. Pronounced "four to one" or "five to one", the first number in the ratio is the number of holes, and the second number indicates the number of inches. So a 4:1 pitch coil will work with 4 holes punched per inch. Because the spacing between holes with 4 per inch will not match the spacing of holes with 5 per inch, the punch pattern will have to match the coil pattern in order to be compatible. So a 4:1 pitch coil will only work with a 4:1 pitch coil binding machine, because binding machines typically have only one pitch punching pattern. Get it?
So, which is better? 4:1 or 5:1?
The simple answer is that 4:1 pitch is the better choice. That is because it is, by far, the most common, most readily available, and least expensive option. The huge majority of coil binding machines have a 4:1 pitch punch pattern, which would carry over to the 4:1 pitch spiral binding coils to being the most desired option.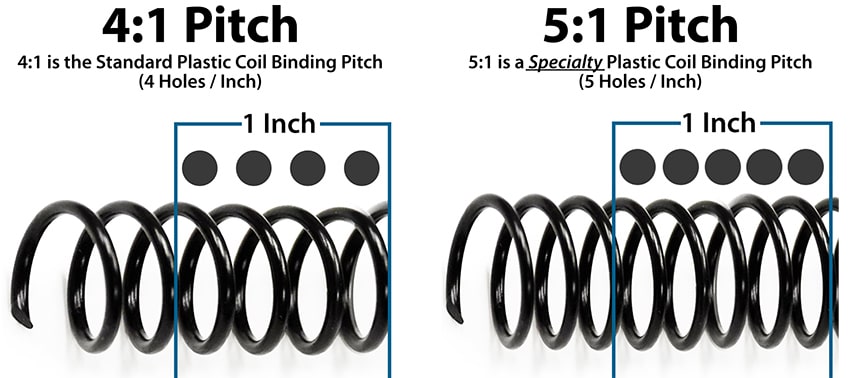 That being said, there is still a definite market for the 5:1, but they are almost exclusively used in the professional printing industry. So if you are buying for an office or general business, then 4:1 will be the best-bet. But if you are a print shop, you may need to evaluate further whether you want 5:1, 4:1, or a machine that will handle both (such as select heavy duty punches like these).
One other thing to note is that when holes are spaced closer together, it can affect the maximum capacity. That is why a 4:1 pitch coil is available up to a 50mm size (1 ¾" thick stack / about 490-440 sheets), whereas 5:1 is only available up to 22mm size (3/4" thick stack / about 180-200 sheets).
The colors you plan to use are another consideration. In general, 5:1 special coils are only stocked in black and white, whereas the 4:1 standard coils are stocked in black, white, clear, maroon, red, blue, navy, green, and more. Special order colored coils are readily available for both, though, and can usually be made to-order pretty quickly.
For more information or a quote, call us at (866) 537-2244 (866) 537-2244 or email info@buy101.com

About the Author • Mallory Morsa has been a part of Binding101 since 2008 and has experience in several departments within the company. She began in customer service and sales where she honed in her skills to provide the customer with professional, fast, and accurate information. Shortly after, she was promoted to sales supervisor and also took on the role of product expert, training the team on new products. Throughout this time, she also wrote content for the site, as well as contributed stock photography and videography. As the team grew, she moved to an official position as the content specialist and social media manager. Her skills in these variety of areas give her the unique expertise to not just create content for the web, but to create content for you, the customer. She has a Bachelor's degree in business management and marketing, was on the Dean's List each year, and graduated Summa Cum Laude. In her free time, Mallory's favorite things to do include volunteering at the animal shelter by bottle feeding neonatal kittens, reading at the park, cooking plant-based meals, playing board games, and binge streaming TV shows with her 3 furbabies and family beside her.