Swipe to the left
An in-depth Review of the Megabind-1E Plastic Comb Binding Machine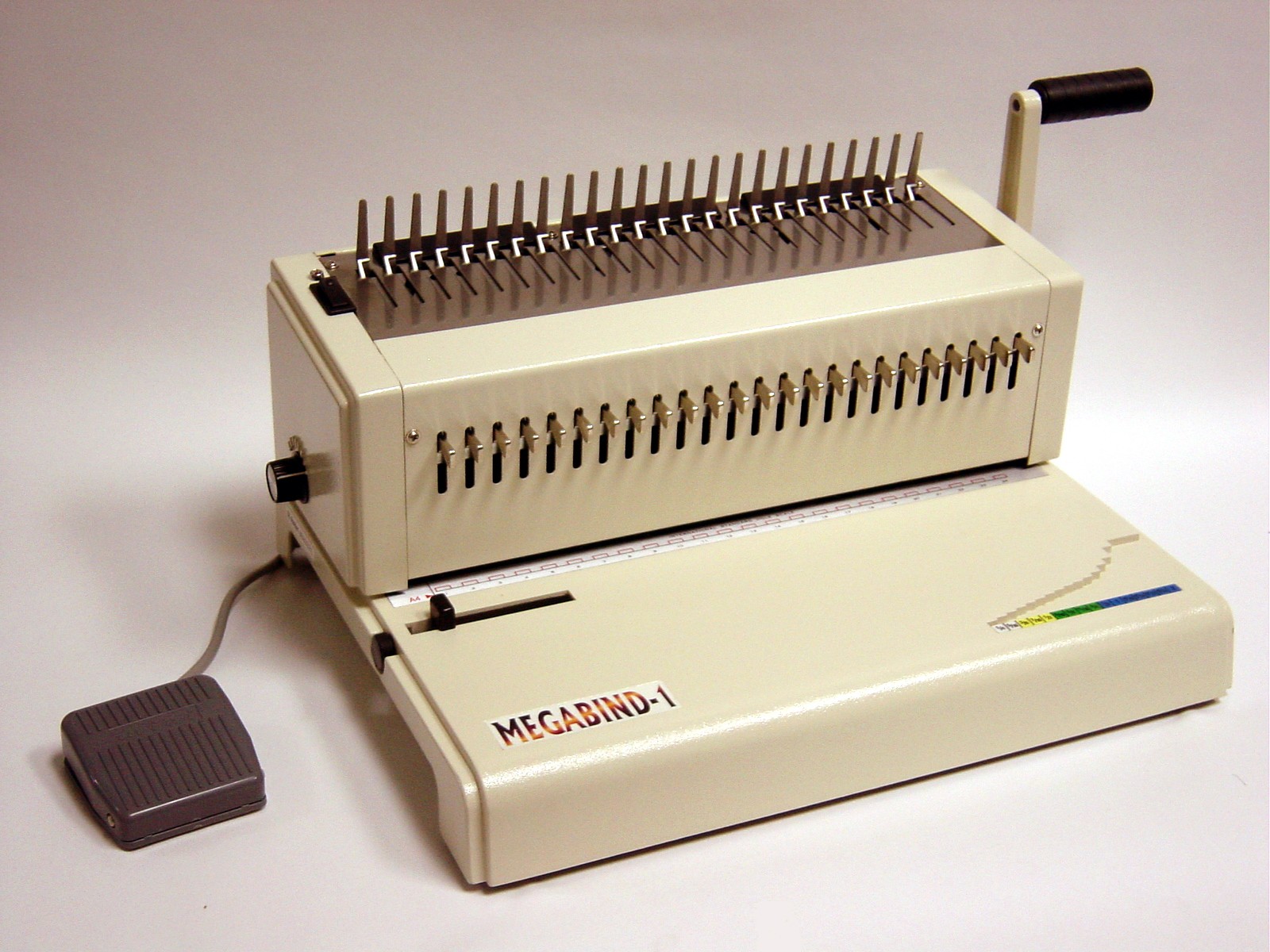 Plastic comb binding machines are available from low volume personal models, to high production heavy duty comb binding machines. There is such a wide variety of machines to choose from that shopping can be frustrating; why can't someone just make it simple? Well, Binding101 has done the homework for you by providing in-depth product reviews on our most popular products to help you make an educated decision. In this review, we will talk about the Akiles MegaBind-1E electric plastic comb binder.
But first, let's review the method of plastic comb binding as a whole, to ensure that this is the binding method you are looking for.
About Plastic Comb Binding:
Plastic comb binding is a traditional, economical, and simple binding method that is used in a variety of industries from personal use, to education, to marketing. The binding spines, known as plastic combs, are made of PVC plastic and consist of a spine of nineteen round rings that easily spread open for sheet inserting; the rings fit into rectangular holes along a standard letter size 11" binding edge. Plastic comb binding is the ideal solution for those who need to save money, as well as those who will be binding books that may need frequent editing. Because the plastic combs can simply be opened and closed, multiple times, editing a book is easy and does not require the waste of the binding comb spines.
In addition, plastic combs are great for consumers who need to customize the binding spine with printing, as our printing department screen print, pad print, and even foil stamp, so a one-of-a-kind look. In addition, plastic combs can be customized to fit almost any book size; getting cut down to meet your specific needs. There are sixteen different diameters available ranging from 3/16" up to 2" thick. Combs are round in sizes 3/16" up to 1", and oval with three locking mechanism for 1 ¼" and larger combs, holding the rings together with the heavy pages.
Plastic comb binding is very popular for user and instruction manuals, cookbooks, proposals, children's books, presentations, and more. Some advantages that plastic comb binding has over other binding methods include that it is a common method, making it readily available from a variety of outlets, it is inexpensive, it can be custom imprinted, it can be easily edited, it has a wide range of sizes and colors available, and allows for perfect registration where the pages align evenly. Some disadvantages with binding with plastic comb include that there are fewer standard colors that with some other binding methods and that pages cannot be turned a full 360 degrees.
Remember, with any machine you always want to punch scratch piece of paper first to make sure the paper margin is set correctly so that the holes are centered along the binding edge. This is also a good idea to do when first using the machine to help get rid of any left-over oil residue from the manufacturing process.
If Plastic Comb Binding still sounds like the correct avenue for you, then read on to learn about one of our most popular comb binding machines, the Megabin-1E. With its high quality metal construction and ease of usability, Akiles Products is one of the most famed binding machine manufacturers in the world; and their Megabind series is no exception.
About the Akiles Megabind 1E:
The electric Akiles Megabind-1E comb binding machine is perfect for high-volume usage in the office or production facility. It has a binding capacity of up to 2", and features easily disengageable punch pins. Fully disengageable pins are standard, letting you disengage multiple punching pins to allow for perfect centering of odd-sized sheets smaller than standard letter size. The maximum binding edge is 14" and features 24 holes for accommodating up to legal sized paper. In addition, the punching throat is open ended, so you can even punch and bind sheets longer than legal size by simply punching your pages once, flipping them over, and punching them again.
The Megabind-1E comb binder features a single handle and foot-pedal system that allows you to punch and bind simultaneously or independently. The foot pedal punching activation allows you to use both hands freely to hold your sheets in place, or pull the handle and close the combs of another book. It will punch through a total of about 20 sheets (of 20 pound paper) in just one pass, allowing for fewer punches to get your book bound. The Megabind-1E has a punching speed of up to 6,000 sheets per hour.
In addition to these great features, the Akiles Megabind-1E comb binding Machine features a diameter guide to help you select the correct comb size based on the thickness of your book, and a margin depth guide, letting you choose between three settings of margin depth. The Megabind-1E measures about 31" x 21" x 15" unpacked, and weighs about 40 lbs. Its size and weight make it slightly difficult to transport to multiple locations, so we recommend placing the Megabind-1E on a mobile binding station if using it in multiple locations.

The Megabind-1E comb binding machine fits well in large sized offices or facilities who plan to use the machine daily. It is perfect for making proposals, reports, calendars, and much more. With its metal construction by one of the most renowned binding machine manufacturers (Akiles)in the industry, the Megabind-1E comb binder is proven to be extremely durable and dependable. We are so confident in the 1E, that it comes standard with a one year manufacturer's warranty; one of the best warranties in the market.
The Akiles Megabind electric binding machine is built tough and with an ease-of-use that can be difficult to find, making it perfect for nearly all consumers looking to speed up production and save money.

About the Author • Hi! My name is Mallory Morsa, and I have been the product expert and content specialist at Binding101 since 2008 (I have practically grown up here!). Every day I push myself to learn new information, incorporating real-life experiences from myself and the entire team to create solutions to the most common problems in the industry, and then present those solutions in a way that is easy to understand for everyone, from novices to experts. I dive deep into products to figure out how they work from the core, and am always honest with my results, so that you know exactly what you will get, before you buy. Outside of work, I can be found snuggling my 3 furbabies, reading by the pool, or at my local animal shelter bottle feeding and volunteering for the kitten nursery.