Foam Board is the most common mounting board in the market today. Made of 3/16" thick foam core with facings on each side, these boards are sturdy enough to stand on their own for presentations and shows when paired with easel backs or foam board stands. They can also be hung up as displays in your store using a variety of foam board hangers. Different styles of foam board include plain foam board, heat activated foam board, self-stick foam board, and pouch boards. But what are the differences? In this article, I will talk a little bit about each kind of foam board to help you decide which option is best for your individual needs (note: gator board, corrugated board, and more mounting boards are also available...we will just be talking about foam board today).
Plain Foam Board (Uncoated):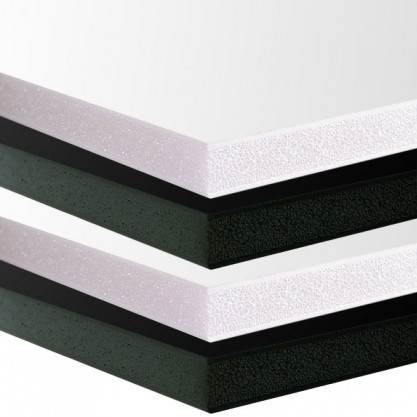 Plain foam board is available in either white or black, and in sizes from 20" x 30" up to 48" x 96". These boards are 3/16" thick and are easily cut down using any foam board cutter of your choice. The word "plain" refers to the fact that there is no adhesive coating added onto the board facings. This is the most common type of foam board because you are not limited to a certain application -- you can use your own adhesive, whether it be adhesive sheets or spray adhesive, to attach prints, or you can use them for photo studios as light reflectors, or for your students as craft displays, and so much more.
White plain foam core board features a bright white clay coated surface on both sides. The core is resilient polystyrene with uniform thickness which resists dents and crushing. White plain foam board is strong and rigid, but amazingly light weight for easy transportation. The core has built in memory so that when cutting the boards, the edges will return to its original thickness when depressed slightly.
Solid black plain foam board is the perfect solution when a black edge is desired along with a black surface. The black foam center is sandwiched between cap sheets of matte black coated paper. Black foam board has the same memory as the white foam board, making them perfect for cutting. This is a great board for photo mounting, presentations and other creative uses.
Heat Activated Foam Board (Adhesive-Coated):
Heat activated mounting board (also known as HAM Board) makes mounting posters simple using your mounting-capable heated roll laminator or wide format roll laminator. These mount boards have a specially formulated adhesive on one side that is activated by the heat of your machine, so you can take time to align your prints without having to worry about them sticking and being stuck on the wrong way. The unique adhesive is of the highest quality and ensures consistent and smooth bonding to your print.
To use heat activated foam core boards, just place your print onto the board and run it through your large thermal laminating machine, as you normally would (just make sure your machine can handle a 3/16" thick board first). The one-step procedure saves time and money by eliminating the tissue adhesive application in the mounting process, and causing less waste. Heat activated foam board is the standard for most mounting jobs in the high-production print and presentation industries.
Self-Stick Foam Board (Adhesive-Coated):
Self-stick foam board, on the other hand, lets you easily mount your items without hot mounting equipment. The peel-and-stick adhesive (also called a cold adhesive) is just pressure sensitive, so all you have to do to use them is peel back a corner of the liner, line up your print onto the exposed adhesive (it will stick immediately), and then peel back the rest of the liner while you press your print onto the adhesive. Using a hand roller (called a brayer) is recommended to help prevent bubbling, and you should always roll from the center, out.
Peel and stick foam core boards are available with either one or two-sided adhesive, and in sizes from 9" x 11" up to 48" x 96". The option of smaller sizes makes they great for artists and photo studios that work with smaller media, as well as large media. Some sizes feature a lower-tack adhesive, which allows for more wiggle room when you first align your print, while some sizes have a high-tack adhesive to provide the maximum possible hold. 3/16" thick self-stick adhesive foam board is sturdy, lightweight, sticky to the touch (under the adhesive liner) and easy to cut with your foam board cutter. They can also be used in your cold / pressure-sensitive laminating and mounting machines, if you have them.
Pouch Boards (Adhesive Coated with Attached Laminate Sheet):
Foam board pouch boards are a combination of a foam board and a laminated sheet. They are perfect for mounting large fine art media, limited edition posters, photo prints, and more. Pouch mounting boards come in either a self-stick adhesive option, or a heat activated adhesive, and in sizes from 9" x 11 ½" up to 41" x 61". The laminate is pre-sealed onto one of the shorter ends, so all you need to do is lift up the laminate, center your print underneath, and push it back down. If using the heat activated boards, you would then run it through your thermal laminating / mounting machine.
With these unique mounting pouch boards you can mount and laminate in a single step; this method is quick, simple, and requires no training. Each board has a high-quality professional bond and rich finish.
Foam core pouch boards are 3/16" thick with a low temperature adhesive that is safe for all inkjet and other prints. The laminate top sheet is available in several different finishes, including glossy, matte, or luster. Gloss laminating boards give your print the shiny, most common look. Matte laminate boards have a scuff resistant film with a pebble finish, and luster finish lamination boards have a smooth, soft finish that keeps your prints looking new and fresh.

About the Author • Mallory Morsa has been the product expert at Binding101 since 2008, and has grown up in the industry. Every day she pushes herself to learn new information, incorporating real-life experiences to create solutions to the most common problems in the industry, and then present those solutions in a way that is easy to understand for everyone, from novices to experts.