Swipe to the left
All About Binding
Anyone in the industry knows that there are a number of ways to bind documents together… but with so many choices, how do you choose which method is right for you? This guide will walk you through the basics of the most popular binding methods in the industry, explaining the advantages and limitations of each binding method. We will review Wire-O Binding, Plastic Coil Binding, Plastic Comb Binding, Velo Binding, Perfect Binding, and Saddle Stitch Binding -- a few of the most popular document binding solutions.
Books that are bound with Wire-O (also known as double o wire or twin loop wire) use a continuous hinge of double loops of wire to hold the book covers and pages together. Wire binding is popular among graphic designers & offers a stylish metal finish. This traditional method of binding secures pages so that they cannot be modified without de-binding the book. Books bound with Wire-O Looped Wire lay flat and the sheets are able to turn 360°, making it the perfect solution for calendars and notebooks. Holes are available in round and square, and 3:1 or 2:1 pitch (holes per inch). The Wire-O supplies are available in 10 different colors and sizes ranging from 1/4" up to 1-1/4". The wire can be bent out of shape so this is not the favorable choice for heavy usage and or mailing.
Plastic Coil Binding is modern and durable, and one of the most popular binding methods on the market today. Spiral Coil Binding is where a continuous plastic coil spins through a series of closely spaced holes along the binding edge. Pages bound with spiral coil can turn 360° so books lay flat & stay flat. This is a durable method of binding that retains it's original shape, even with excessive use. There are several Coil colors available, (including custom color matches) and they are available in diameters from 6mm (1/4" - about 35 sheets of 20# paper) up to 32mm (1-1/4" - about 290 sheets of 20# paper).
GBC Plastic comb binding is a traditional, economical, and simple binding method. Made of PVC Plastic, the combs consist of a spine of round rings that spread open for sheet inserting. The rings fit into rectangular holes along a binding edge. The standard length of a binding comb is 11" and it has 19 rings. Plastic Comb Binding is prefect for those who will need to edit their documents, as the bindings can be easily opened and closed. Additional and custom lengths are available. 16 different diameters are available ranging from 3/16" up to 2". Combs are round in sizes 3/16" up to 1". 1-1/4" and larger combs are oval shaped with 3 locks to hold rings together. The comb spines can be imprinted with titles, company names, logos, and more.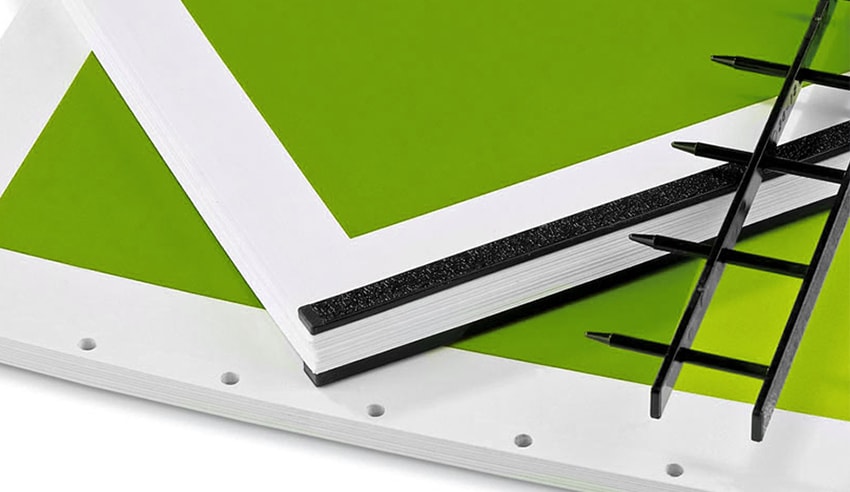 VeloBind Binding, commonly used in the legal industry, is a secure method of binding. The Velo strips are made of rigid plastic. There are two strips used in the binding process. One with 11 prongs made to be inserted into the punched paper. The other is flat with 11 corresponding holes. Using a hot knife VeloBind machine, the prongs are inserted into the holes of the flat spine. Using heat, the two plastic Velo strips are melted and sealed together, creating one of the most secure binds available. VeloBind strips are available in 1", 2" and 3" capacities and 8-1/2", 11", and 14" lengths.
Perfect Binding, also referred to as soft cover binding, is similar to paper back novel binding. Unlike some binding processes that require sewing the pages into the spine of the book, Perfect Binding requires no sewing, and instead uses a strong adhesive is used to hold the pages in place by attaching them to a soft cover. When finished, Perfect Binding creates a clean look with a flat spine. Sometimes referred to as case binding, the use of Perfect Binding also lends itself to smaller publishing concerns, such as desktop publishing and self publishing in the publish on demand businesses. The equipment required to create a perfect bind is relatively simple and easy to operate. Glues used in this binding technique are also easy to work with, making the task of creating a professional look possible even by people with little binding experience. Perfect Binding is utilized for many types of soft-cover type books, manuals, corporate reports, brochures, and other simple collections of documents.
Saddle Stitch is one of the simplest and most widely used methods of binding. Saddle Stitching can be done using two different pieces of equipment: a Saddle Stapler, or a Saddle Stitcher. Both machines provide the same results, however, Saddle Staplers use actual staples with Saddle Stitchers use Stitching Wire. Folded booklets are placed over a "saddle" and then the staples or stitching wire are inserted along the spine. Books bound using saddle stitch lay relatively flat and are most commonly used for applications including booklets, brochures, newsletters, pamphlets, direct mailers, magazines, and catalogs. They also have the ability to accommodate special inserts such as business reply envelopes, membership forms, order forms, etc.

About the Author • Mallory Morsa is the product expert and content specialist at Binding101, and has been a valued team member since 2008. She started her career here in customer service, moved onto sales supervisor, product management, and then onto content. She takes a hands-on approach to products, and truly gets to know how every item works before she writes about them, with a goal to give you all of the honest information you need to make a confident buying decision. She has a bachelor's degree with a focus on management and marketing, and has been a writer, photographer, and videographer for many years. In her free time, she loves to read by the pool, volunteer at the local animal shelter in the kitten nursery, and snuggle her three furbabies while she binge watches Netflix.