1. Book Rings: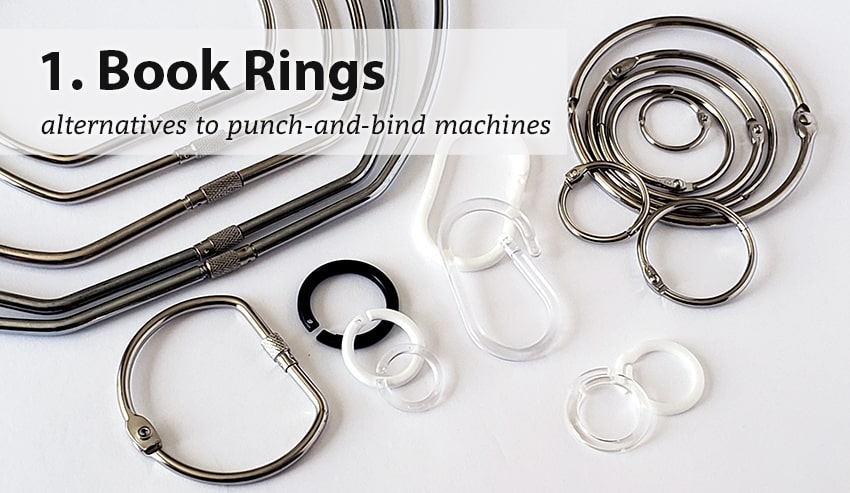 Probably the easiest alternative to punch and bind machines is a book ring! Also called loose leaf binding rings, they come in several sizes and styles including standard metal looseleaf rings (most popular), screw lock metal rings, plastic snap rings, oval plastic snap rings, and plastic overlap rings. They are secure once closed so your pages won't fall out, but are also easy to re-open as many times as you need for quick editing. Super easy, inexpensive, and all you need is a hole puncher; that's why book rings are the most popular way to bind books without a machine.
You will need:
Book Binding Rings - Choose from several styles.

Hole Punch - You can use a single hole punch, a 2-hole, 3-hole, or any other punch you want.

How to Bind:
Punch your pages with as many holes as you want.

Open the ring, place it through the hole, and close it. Repeat for as many rings as you are using.

2. Binding Posts: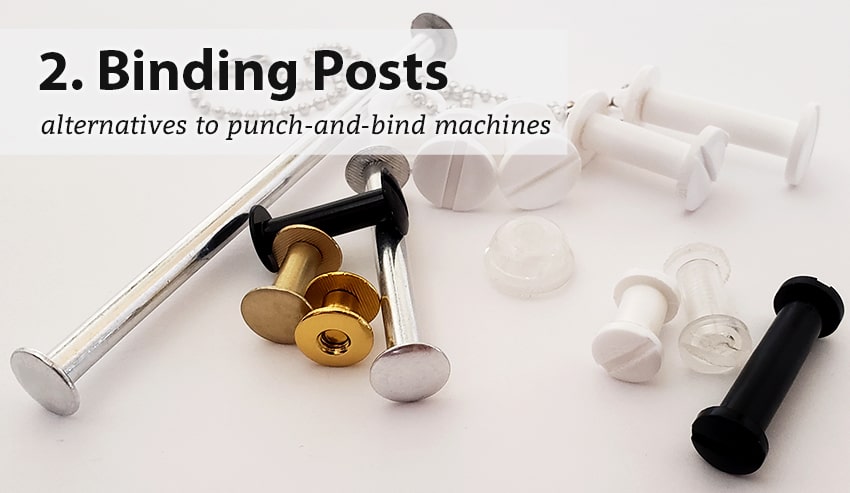 Book binding posts, often called Chicago Screws or screw posts, are another great alternative. Just like the rings, all you need is a hole puncher (any kind and any configuration of holes). Binding posts come in a huge variety of lengths, even up to 5" thick. They also come in metal and plastic options. The metal options have extension screws that can also expand the capacity further. Metal book posts are easy to unscrew and edit whenever needed, while plastic ones offer a more permanent/secured bind.
You will need:
Screw Posts - Choose from several styles.

Hole Punch - You can use a single hole punch, a 2-hole, 3-hole, or any other punch you want.

Pliers (Optional; recommended for plastic) - If you're using plastic snap-lock posts, a set of needle-nose pliers is sometimes helpful to both close and re-open, if necessary. A towel is also helpful for grip.

How to Bind:
Punch your pages with as many holes as you want.

Place the post through the holes, then twist-in the screws. Or if using snap-posts, press in the screws. You can use a pair of pliers if it is too difficult in this case.

3. Pad Glue: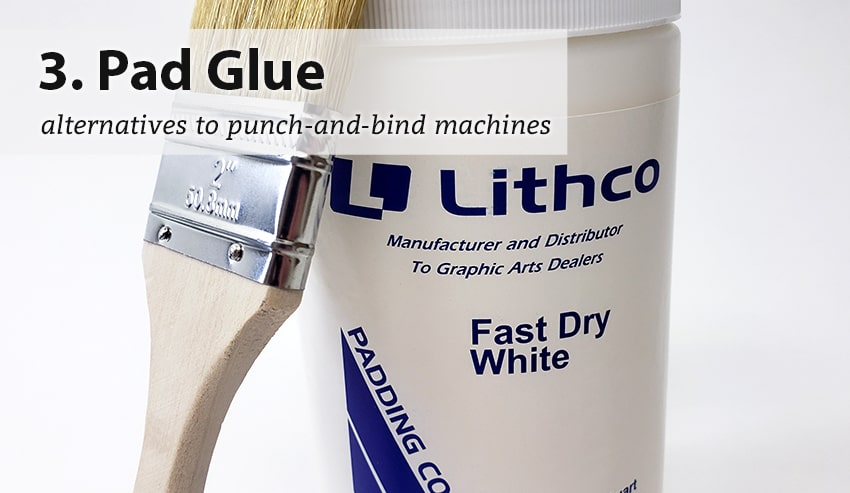 Making notepads is another great alternative to punch-and-bind machines. These tear-away pads are fun and simple to make, but they do take a bit of time because of the drying time required by the glue. Also called padding compound, the glue is a unique formulation specifically designed for tear-away notepads.
You will need:
TIP: Make it a magnetic notepad by adding a self-stick magnet strip.
How to Bind:
Clamp your pages together at the binding edge with your chipboard at the bottom.

Brush the glue onto the binding edge and allow to dry. If needed, add a second coat and allow to dry.

If applicable, separate the pads below each chip board sheet using the pad knife.

4. Spiral Coils: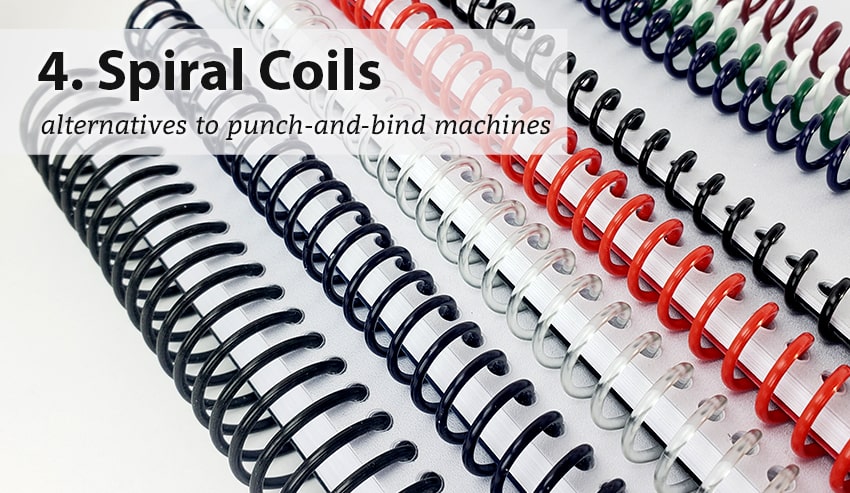 Or if you were hoping for something that is closer to the traditional spine-bound look, then why not try spiral binding coils? While a machine is very helpful and will allow for more customization, you can pair together a few different tools and supplies to easily bind coil books without a machine.
You will need:
How to Bind:
Print your pre-punched paper and place the sheets in order with your pre-punched covers.

Roll the coils in through the holes. If doing a thicker book, it is easier if you shape the spine of your pages to match the coil shape.

Use the crimping pliers to cut/crimp in each end of the coil.


About the Author • Mallory Morsa has been a part of Binding101 since 2008 and has experience in several departments within the company. She began in customer service and sales where she honed in her skills to provide the customer with professional, fast, and accurate information. Shortly after, she was promoted to sales supervisor and also took on the role of product expert, training the team on new products. Throughout this time, she also wrote content for the site, as well as contributed stock photography and videography. As the team grew, she moves to an official position as the content specialist and social media manager. Her skills in these variety of areas give her the unique expertise to not just create content for the web, but to create content for you, the customer. She has a Bachelor's degree in business management and marketing, was on the Dean's List each year, and graduated Summa Cum Laude. In her free time, Mallory's favorite things to do include volunteering at the animal shelter by bottle feeding neonatal kittens, reading at the park, cooking plant-based meals, playing board games, and binge streaming TV shows with her 3 furbabies and family beside her.