If you're looking for plain mounting boards, or boards without any adhesive coating, then you've come to the right place. At Binding101 we stock a large variety of uncoated boards including foam core, gator board, and corrugated plastic. Our mounting sheets are top-quality, manufactured with transit and long-term display in mind; these are not the boards you will find at just any store, but made with the best materials on the market to ensure a professional finish.
No longer will you barely bump a board and have an unsightly dent on display; with our selection, your display will remain clean of blemishes for longer than other brands. But what may be surprising is that our top-quality mounting boards are still affordably priced, offering great bang-for-your-buck value.
Explore our selection below by choosing whether you want foam core boards (standard / most popular), gatorboard (heavy duty, stronger), or corrugated plastic boards (often used for outdoor signs), all of which are available in a variety of sheet sizes and in either white or black. Need help choosing? Give us a call at (866) 537-2244, we would be glad to assist.
Read more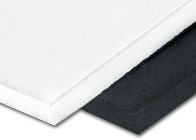 Hi there!
We want to give you $10.
Sign up for Exclusive Email Offers
Success! You're now on the list. You'll start receiving Exclusive Email Offers shortly.
Please copy and use promo code KLEMAILQ121 in your cart.*

* Offer valid once per customer on orders of $50 or more
$10 OFF your first order of $50 or more
Signup For
Exclusive email offers