GFP 255C 55" Wide Format Cold Laminator
4840.25
NewCondition InStock
GFP 255C 55" Wide Format Cold Laminator
Overview
This GFP 255C is a professional cold laminator that is perfectly tuned for your over-lamination, mounting, and board pre-coating jobs. It is an affordable alternative to time-consuming hand finishing with rollers and squeegees, offering consistently professional finishing results. Now even the smallest shops can compete for bigger jobs with confidence. The Graphic Finishing Partners 255C has a 55" laminating width and 13 feet per minute laminating speed along with a variable roller gap up to one inch thick. Shorten your production time and increase your profit with the GFP 255C cold wide format laminator.
Specifications
| | |
| --- | --- |
| Item # | 04GFP255C |
| Manufacturer | GFP Graphic Finishing Partners |
| Manufacturer Item # | 255-C |
| Laminator Type | Cold Laminator / Pressure Sensitive |
| Format | Wide Format Laminating |
| Laminating Width | 55 Inches |
| Maximum Speed | 13 Feet per Minute (5 fpm) |
| Supply Shaft/Core | 3 Inch Quick-Grip |
| Main Rollers | Rubber |
| Roller Gap | 1 Inch |
| Pressure/Gap Adjustment | Infinite (Hand Wheel) |
| Heat Assist | No |
| Liner Rewind | Chain Drive |
| Tension Adjustment | Single Knob |
| Power Supply/Consumption | 110v 0.5A 38W |
| Included Accessories | Foot Pedal, Stand with Caster Wheels |
| Optional Accessories | 55COV Dust Cover |
| Applications | Signs, Posters, POP Displays, Trade show displays, Single side lamination, Graphic mounting, Photo mounting, Floor graphics, Vinyl Weeding, Colored Vinyl, Pre-mask |
| Manufacturer's Warranty | 1 Year Limited Parts & Labor |
| Machine Dimensions | 73 Inches x 24 Inches x 55 Inches |
| Net Weight | 287 lbs. (with included stand) |
| Shipping Dimensions | 77.5 Inches x 25 Inches x 27 Inches |
| Shipping Weight | 380 lbs. |
| Shipping Method | Truck |
Description
The 255C from Graphic Finishing Partners offers a simple, effective, and professional solution for wide-format cold lamination. Anyone can improve the productivity of their print shop or workroom with this incredible machine. The impressive adjustable speed of up to 13 feet per minute lets you finish jobs quickly while allowing you the freedom to adjust and tailor the speed to your individual application. The wide 55-inch feed opening allows for a wide variety of large format prints and posters, so you can accomplish any job your customers throw at you. The variable roller gap up to 1-inch gives you the freedom to adjust the feed for your thickness of media while the included stand brings the system to a comfortable working height for maximum efficiency. It is incredibly versatile, offering beautifully finished lamination results for a variety of jobs, including (but not limited to) signs, posters, POP displays, trade show graphics, single-side laminated prints, graphic mounting artistic prints, photo mounting, floor graphics, vinyl weeding, colored vinyl, pre-masking, and more.
Key Features:
Easy set-up and low maintenance
Labor-saving 3" Aluminum Quick-Grip film shafts
Variable roller gap to 1"
Single pressure adjustment
38" output height.
4.5" diameter rollers.
Chain drive rewind
Stand and Foot Switch included
Popular Applications:
Signs
Posters
POP Displays
Trade show displays
Single side lamination
Graphic mounting
Photo mounting
Floor graphics
Colored Vinyl
Pre-mask
Mounting boards
Cold Pouch boards
PSA film
& More
Videos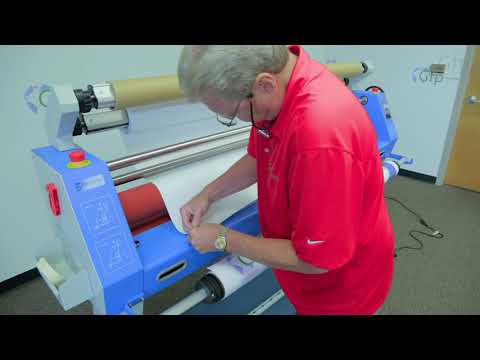 Gfp 200 Series Applications - PSA Over-laminate
Transcript:
In this applications video, we walk you through utilizing the Gfp 200 Series Cold Roll Laminator to apply a PSA Over-laminate to a print.
In this applications video, we walk you through utilizing the Gfp 200 Series Cold Roll Laminator to apply a PSA Over-laminate to a print.