Keep your items secure and tamper-proof by using our specialty security laminating toner foil rolls. These holographic foil printing films have a repetitive pattern of various text options that flips upside down and right side up. The silver underlay and rainbow foil finish makes these vibrant foils opaque to cover your entire printed design. Holographic security laminating toner foil rolls offer a simple solution when you need tamper-evident security for papers and documents.
All of our foil rolls are toner-reactive and require a heat source to fuse. Toner-reactive means that they will only stick to the dry toner that is printed on your sheet. Dry toner can be found in most office copiers. It will not, however, work with wax-based inks, which are often found in laser and inkjet printers. Check your printer ink cartridge for compatibility with foil rolls. If you're not sure, call us at (866) 537-2244 and we can test your printed pages in-house and mail back the results.
In addition, foiling is accomplished best on only smooth paper stocks with no coating. In order to achieve a solid foil across all of your print, the paper stock that it is printed on needs to be smooth and uncoated. Texture prevents the foil from going inside the crevices and will leave you with a spotty design. Sometimes C1S or C2s paper, the coating on some stocks blocks the foil from adhering. The thickness of your paper stock doesn't usually cause an issue, however, when using thicker paper you will need additional heat to compensate.
Heat is critical factor when it comes to foiling. Our selection of foil laminators all have some important functions that are needed to foil, the most important of which is heat (and/or speed). A minimum of 300° F is needed to foil, and the ability to get hotter is highly recommended, especially if you will be using transparent foils or holographic patterned foils, which require more heat (or more time in the heat) to properly fuse. This is why not all pouch laminators will always work, and why some will only work with certain foils. We have more information about what capabilities your pouch laminator will need to work on our foil laminators page (just hit "view more" on that page). If you want us to send you a sample piece of foil to test on your machine, just give us a call at (866) 537-2244 and we would be happy to do so!
Read more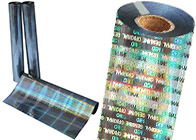 Pattern: "VOID IF REMOVED / GENUINE SECURE" Security Foil
Color: Silver Underlay, Holographic Finish
Choose from several sizes
Sticks to dry toner prints when heat is applied
Hi there!
We want to give you $10.
Sign up for Exclusive Email Offers
Success! You're now on the list. You'll start receiving Exclusive Email Offers shortly.
Please copy and use promo code KLEMAILQ121 in your cart.*

* Offer valid once per customer on orders of $50 or more
$10 OFF your first order of $50 or more
Shop By
Shopping Options
Color

Size
Signup For
Exclusive email offers