SpeedyLam 330R 13" Pouch Laminator - Clearance Sale
SpeedyLam 330R 13" Pouch Laminator - Clearance Sale
Overview
As the top-of-the-line pouch laminator, the SpeedyLam is the highest quality machine in it's class, and offers an unmatched lamination speed up to 12' per minute, which amounts to 124" per minute...most pouch laminators run around at just 30" per minute, so the SpeedLam smashes the competition. It has a 13" wide feed opening, so easily handles the most popular laminating pouch sizes, and features eight rollers to offer even heating and cooling, as well as lending to the speed, to create a professional and clear finish without any milky edges or bubbles. The adjustable temperature from 0° - 160° also helps you achieve the perfect lamination, as well as allows you to use cold laminating pouches for sensitive documents. A patented cooling system keeps the exterior of the laminator cool to the touch even when doing high volume production runs. These features, along with an easy-to-use control panel, ensure premium results for a huge variety of applications, including even photos, inkjet prints and color copies. The wider feed opening allows for up to specialized 14 mil thick pouches, so can easily work with the most common thicknesses including 3 mil, 5 mil, 7 mil and 10 mil. Buy the SpeedyLam 330R 13" pouch laminator online, and add the highest-quality and fastest pouch laminating machine to your office or print shop today.
Specifications
| | |
| --- | --- |
| Item # | 04LAM330R10 |
| Manufacturer | James Burn USA [JBUSA] |
| Manufacturer Part Number | 330R |
| Operating Method | Electric |
| Power Voltage | 1500 W |
| Speed | 12 Feet / Minute (144") [Adjustable] |
| Dimensions | 21" W x 13 ¾" D x 6 ¼" H |
| Manufacturer's Warranty | 1 Year Limited [Parts], 90 Day Limited [Labor] |
| Size | 13" |
| Heating Type | Roller [10 Rollers: 6 Heated, 2 Cooling, 2 Outlet] |
| Warm-Up Time | 5 Minutes |
| Maximum Mil Thickness | 14 Mil |
| Temperature Range | 0° - 160° [Adjustable] |
| Adjustable Temp | Yes |
| Maximum Width | 13" Wide |
| Reverse Function | Yes |
| Shipping Weight (lbs) | 55 |
Description
The SpeedyLam 330R10 by is a 13" pouch laminator, considered the fastest pouch laminator available! The SpeedyLam will laminate up to 12' per minute, allowing letter sized laminating pouches to be run every 5 seconds. This innovative laminator features 6 heated rollers, 2 cooling rollers, and 2 outlet rollers. These features ensure high quality results even on difficult to laminate items such as photos, inkjet prints, and color copies. The patented cooling system keeps the exterior of the laminator cool to the touch even when doing high volume production runs. The SpeedyLam 330R cool down cycle is easily activated by pressing and holding the power button. The cooling fans will continue to run until the machine has reached the correct shut down temperature. When the system is cooled it will automatically shut itself off, thus preventing damage to the heated rollers.
Videos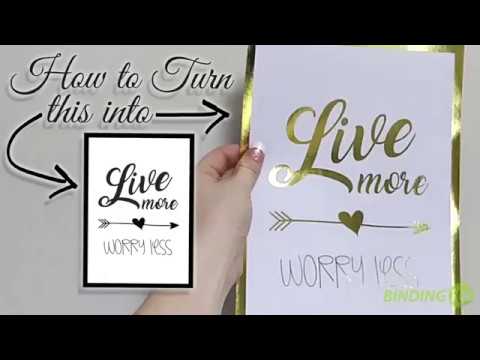 How to Foil with a Pouch Laminator
Transcript:
Hi, my name is Mallory, and today I am going to show you how to turn a printed sheet into a gorgeous foiled print using a pouch laminator.

Ok, so the first thing you need to do it print the design you want to foil. It needs to be printed using a dry toner ink onto a smooth paper stock. Thicker paper like cardstock works fine, as long as there is no texture and the ink used is a dry toner (not an inkjet or other wax-based ink).

You are also going to need a pouch carrier, which is this fold...
Read More
Hi, my name is Mallory, and today I am going to show you how to turn a printed sheet into a gorgeous foiled print using a pouch laminator.

Ok, so the first thing you need to do it print the design you want to foil. It needs to be printed using a dry toner ink onto a smooth paper stock. Thicker paper like cardstock works fine, as long as there is no texture and the ink used is a dry toner (not an inkjet or other wax-based ink).

You are also going to need a pouch carrier, which is this folder here. This is going to protect your laminator.

Now place your printed sheet onto the pouch carrier, and lay your foil roll over your design. Make sure all the ink that you want to foil is covered. Next, cut your foil to fit the design.

Place the foil with the non-colored, gray side down over the portion of your design that you want to foil.

So I've trimmed my foil, and now I am going to place a piece of scrap paper on top of the foil to prevent it from transferring onto my carrier. If your foil overlaps your printed sheet, you can also place a piece of scrap paper below your design.

Now bring it over to your pouch laminator, which should be pre-heated. The temperature to use is going to vary quite a bit, depending on the supplies you are using, including the paper thickness, the laminator, and even the foil itself, because some colors need a little extra heat. You may need to do some testing before you can get the perfect finish, so be sure to have plenty of printed sheets to work with.

I am using the professional, James Burn SpeedyLam 330R, set to 150 degrees Celsius (or about 300 degrees Fahrenheit) using a speed setting of 2. Other laminators may work as well, but there are a couple things you need to keep in mind… they need to have adjustable heat and adjustable speed settings in order to work. They also have to hit really hot temperatures, the minimum typically being about 300 degrees Fahrenheit (but again, that will vary depending on several factors, which is why adjustable heat is necessary). It also needs to be able to handle a 10 mil thick pouch minimum, since we are using a thick pouch carrier and scrap paper.

If you're using one of the smaller home office pouch laminators, it might still work, you may just have to run it through more than once to get the foil to stick.

So we're going to lay our carrier flat and open it up. There may be some static, which for me lifted up my scrap paper. You can kind of see where it grabbed the design here. Now find an edge and peel it up.

This is my favorite part...Voilah! You're done.

The color used is our regular metallic gold, which is our most popular. We have several other golds available, including matte gold and rose gold too. Plus a ton of other colors, holographic patterns, iridescent rainbow colors, and more.

You can see here that I should have placed a piece of scrap paper below my design, because my foil overlapped my print and stuck onto my pouch carrier.

Thanks so much for watching, I hope you enjoyed this video. Be sure to subscribe to our YouTube channel for more foiling videos, as well as a ton of other videos about all the products that we have to offer at Binding101.com

_____________________________________________________________

PACIFIC SUN by Nicolai Heidlas Music https://soundcloud.com/nicolai-heidlas
Creative Commons — Attribution 3.0 Unported— CC BY 3.0 http://creativecommons.org/licenses/b...
Music promoted by Audio Library https://youtu.be/kbqmEJTr3nU