10% Off Mounting Boards
Sorry for the mess! We're working on a new offer for you!
To be notified when this offer goes live, sign up for coupon codes here.
Our premium-quality foam and mounting bords are one of our best sellers! Available in a huge variety of styles and sizes to fit the needs of nearly any business, you are sure to find some of the best foam boards in the biz, at the best pricing, at Binding101. And now, from August 6th through the 16th, we're offering 10% off our already low prices on mounting boards, no matter the kind you need! Choose from mount core boards, which are the most versatile, in either black or white, and in sizes from 20" x 30" up to 60" x 120". Foam boards are the ideal thickness of 3/16", which offers great stability, while being less bulky and more cost-effective than some alternatives. If durability is what you are after, then consider plain gator boards instead, which offer a more dense core and greater resistance to punctures and bends; plus, gator comes in thicker options, including 3/16", 1/2", and even 1" thick boards. Looking for something with adhesive instead? We offer both self-stick adhesive boards with simple peel-and-stick use (foam board and gator board styles available), as well as heat activated adhesive boards for use with large laminating and mounting equipment. We also have plain corrugated plastic boards, pouch mounting boards, and more! Below we have featured our most popular mounting boards; click an item to see the options available, and remember to copy/paste the promo code into your cart to get the 10% off discounted price through August 16th, 2019.
Use FOAMSAVE10 in your cart for 10% off!
PLUS get free standard* shipping on all orders over $75 automatically trough August 16th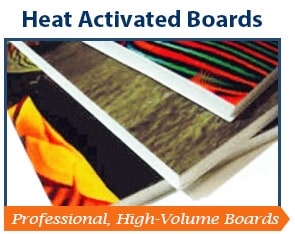 or Click Here to Shop ALL Mounting Boards
*Exclusions: Coupon codes must be used during the ordering process, and cannot be applied to any order after it has been placed, shipped, or delivered. Valid for mount boards available online only; not valid for custom cut or special-order boards. One (1) promo code may be used per order. This promotion cannot be combined with any other promotions, discounts, or special offers of any kind, including clearance prices. Valid for noted products only. Offer valid for qualifying orders placed from 08/06/19 - 08/16/19. Not valid where prohibited by law. Click here for standard shipping details and exclusions. Subject to change at any time.