12" x 100' Dark Green Metallic Laminating Toner Foil with 1/2" Core (1 Roll) #GRN-85
54.99
NewCondition InStock
12" x 100' Dark Green Metallic Laminating Toner Foil with 1/2" Core (1 Roll) #GRN-85
Overview
Our dark green metallic foil offers a deep, highly saturated color with high contrast. Perfect for nature groups, government agencies, and holiday crafts, the green is reminiscent of pine trees and forests. This special toner foil sticks to the dry toner¹ that is used in most copiers and select laser printers (does not work with wax-based inks*). They offer a consistent, solid color that can bring brilliance to invitations, greeting cards, business cards, artistic prints, and much more. Our foils are not the same as what you will find at the craft store; not only are they less expensive per square inch, they are of a much higher production-quality, so you can achieve a truly solid, professional foiled finish. Simply print your design, and use a heated foil or laminating machine to apply foil to the printing.
Ready to add brilliance to your printed pages? You can buy dark green metallic foil fusing rolls in several different widths, lengths, and core sizes. Before you choose a roll size, make sure the core size and roll width match your machine. Widths can easily be cut shorter with the
foil roll cutter
, or we can affordably cut it for you (call (866) 537-2244 for a quote).
Specifications
| | |
| --- | --- |
| Item # | 02FF11100MDG |
| Manufacturer | Binding101 |
| Manufacturer Item # | FM-MB-GRN-85-12 |
| Color | Dark Green Metallic (GRN-85) |
| Roll Size | 12" W x 100' L |
| Core Size | 1/2" |
| Foil Series | "R" Series |
| Quantity | 1 Roll |
| Shipping Weight (lbs) | 3 |
Description
What is Foil:
Foiling is the process of adding a metallic foil to paper* to create a bright and vibrant finished piece. These Dark Green Metallic Foil Fusing Rolls are perfect for DIY'ing your own wedding invitations, creating business cards that will really set you apart, making prints to frame and hang on the wall, and so much more. They are priced affordably compared to other brands, making them the premier choice for print production facilities and re-sellers --such as print and copy shops-- as well. These reactive foil rolls feature a toner adhesive on the back that will stick to the dry toners used in most copiers and some laser printers*. These metallic toner offer a solid and opaque foil color. Foiling is a great way to create wedding invitations, award certificates, craft projects, business cards, letter head and anything else that could benefit from bright metallic color accents.
What Machines can Foil:
You can use a foil fusing machine to apply consistent heat (to activate the adhesive) and pressure (to ensure a clean and consistent application). Other heat machines, such as pouch laminators, may work as well, however, may require more heat testing and adjusting to get a perfect finished print. Here are some important considerations for various methods of foil fusing:
Method/Machine
Pouch Laminator
Roll Laminator
Foil Fuser
Roll Size
Any Size. Pieces of foil are
cut off the roll before applying.
Varies on machine width
Varies on machine width
Core Size
Any Size. Pieces of foil are
cut off the roll before applying
Varies on machine core
May vary by machine;
most use a 1" core roll
Heat
Minimum heat requirement: 300° F
Higher is recommended
Adjustable is recommended
Minimum heat requirement: 300° F
Higher is recommended
N/A; Specifically made for foil rolls
Speed
Adjustable speed is highly recommended
Adjustable speed is highly recommended
N/A; Specifically made for foil rolls
How to Foil
The method you use to foil will vary significantly based on the kind of machine you are using; a foil fuser, a roll laminator, or a pouch laminator. We have several blogs and resource posts about foil, including instructions for various methods. Click here and search the word "foil" to browse our foil blogs.
¹ The adhesive on the back of these foil rolls sticks to dry toner only; it will not work with wax based inks from laser printers.
² Compatible pouch laminators require certain features; they must be able to reach at least 300°F, have adjustable speed and temperature settings, be the proper width for your machine. If using a roll laminator, the machine must also have a film rewind feature and a matching core size. Other variables may factor into compatibility. Click here to see a list of laminators tested and approved for foiling
³ The adhesive applies well to smooth paper stocks of a variety of thicknesses. It does not, however, create a solid/consistent look on textured papers.
Videos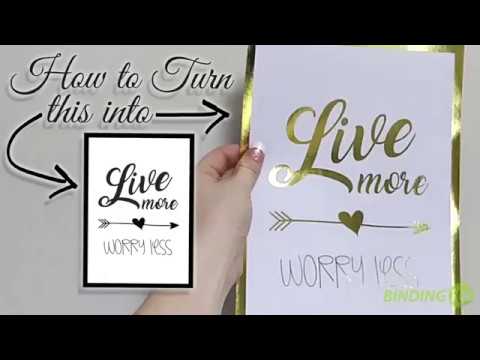 How to Foil with a Pouch Laminator
Transcript:
Hi, my name is Mallory, and today I am going to show you how to turn a printed sheet into a gorgeous foiled print using a pouch laminator.

Ok, so the first thing you need to do it print the design you want to foil. It needs to be printed using a dry toner ink onto a smooth paper stock. Thicker paper like cardstock works fine, as long as there is no texture and the ink used is a dry toner (not an inkjet or other wax-based ink).

You are also going to need a pouch carrier, which is this fold...
Read More
Hi, my name is Mallory, and today I am going to show you how to turn a printed sheet into a gorgeous foiled print using a pouch laminator.

Ok, so the first thing you need to do it print the design you want to foil. It needs to be printed using a dry toner ink onto a smooth paper stock. Thicker paper like cardstock works fine, as long as there is no texture and the ink used is a dry toner (not an inkjet or other wax-based ink).

You are also going to need a pouch carrier, which is this folder here. This is going to protect your laminator.

Now place your printed sheet onto the pouch carrier, and lay your foil roll over your design. Make sure all the ink that you want to foil is covered. Next, cut your foil to fit the design.

Place the foil with the non-colored, gray side down over the portion of your design that you want to foil.

So I've trimmed my foil, and now I am going to place a piece of scrap paper on top of the foil to prevent it from transferring onto my carrier. If your foil overlaps your printed sheet, you can also place a piece of scrap paper below your design.

Now bring it over to your pouch laminator, which should be pre-heated. The temperature to use is going to vary quite a bit, depending on the supplies you are using, including the paper thickness, the laminator, and even the foil itself, because some colors need a little extra heat. You may need to do some testing before you can get the perfect finish, so be sure to have plenty of printed sheets to work with.

I am using the professional, James Burn SpeedyLam 330R, set to 150 degrees Celsius (or about 300 degrees Fahrenheit) using a speed setting of 2. Other laminators may work as well, but there are a couple things you need to keep in mind… they need to have adjustable heat and adjustable speed settings in order to work. They also have to hit really hot temperatures, the minimum typically being about 300 degrees Fahrenheit (but again, that will vary depending on several factors, which is why adjustable heat is necessary). It also needs to be able to handle a 10 mil thick pouch minimum, since we are using a thick pouch carrier and scrap paper.

If you're using one of the smaller home office pouch laminators, it might still work, you may just have to run it through more than once to get the foil to stick.

So we're going to lay our carrier flat and open it up. There may be some static, which for me lifted up my scrap paper. You can kind of see where it grabbed the design here. Now find an edge and peel it up.

This is my favorite part...Voilah! You're done.

The color used is our regular metallic gold, which is our most popular. We have several other golds available, including matte gold and rose gold too. Plus a ton of other colors, holographic patterns, iridescent rainbow colors, and more.

You can see here that I should have placed a piece of scrap paper below my design, because my foil overlapped my print and stuck onto my pouch carrier.

Thanks so much for watching, I hope you enjoyed this video. Be sure to subscribe to our YouTube channel for more foiling videos, as well as a ton of other videos about all the products that we have to offer at Binding101.com

_____________________________________________________________

PACIFIC SUN by Nicolai Heidlas Music https://soundcloud.com/nicolai-heidlas
Creative Commons — Attribution 3.0 Unported— CC BY 3.0 http://creativecommons.org/licenses/b...
Music promoted by Audio Library https://youtu.be/kbqmEJTr3nU