RotaTrim Professional Series Rotary Trimmers
RotaTrim Professional Series Rotary Trimmers
Overview
The RotaTrim Professional series trimmers are available in a variety of cut lengths from 12" to 54". Originally designed with the professional photographer in mind, this heavy-duty rolling trimmer has proven its durability and worth as an "all day, everyday" use trimmer for a variety of other professional markets, including print shops, mail stores, studios, and much more. It is a multi-substrate cutter that can handle materials up to 3mm thick with incredible accuracy to 0.002" (two thousandths of an inch). The RotaTrim Professional M features metal components for durability, and a premium self-sharpening sheffield tungsten steel blade for a long life. The smooth glide rail with nylon bearings offer an exceptionally stable traverse motion for silent and resistance-free trimming.
Specifications
Item #
04ROTOM-GRP
Manufacturer
RotaTrim
Manufacturer Part Number
60100 60110 60120 60125 60140 60150 60160 60170
Operation
Manual
Included Supplies & Accessories
1 Rotary Blade, 12" Squaring Arm, Clear Plastic Clamp Strip
Compatible Supplies & Accessories
RotaTrim Replacement Blade 69105
RotaTrim 24" Extension Arm 62315
RotaTrim 36" Extension Arm 62325
RotaTrim Cutting Head Assembly M100
Dimensions
15-3/4" x 6" (Width Varies by Model)
Certifications
ISO9001:2008 Quality Certified
Manufacturer's Warranty
5 Year Limited
Cutter Capacity*
3mm
Cutter Accuracy
0.002"
Can Cut Materials
Paper, Banner, Laminate, Foam Board, Tissue, Self-Adhesive Materials, Canvas, Cellophane, Cork, Felt, Floor Graphics, Foil, Honeycomb, Offset Plates, Polyethylene, Polyester, Polystyrene, & More! Call (866)537-2244 for Sample Material Testing
Shipping Weight (lbs)
1
Description
The RotaTrim Professional rotary trimmers offer a unique twin-guide rail design and nylon bearings that ensure silent, resistant-free and accurate cutting through a huge variety of materials. It can be used to cut paper, film, laminated materials and digital media output from image setters, plotters, and much much more (see list of tested materials below). A die-cast steel housing over the cutting wheel keeps the operator safe, eliminating accidents. The cutting wheel self-sharpens the sheffield tungsten steel blade as it cuts, ensuring smooth, clean cuts for years to come. Each Rotatrim Professional M Cutter comes with a 5 year manufacturer's general warranty on all parts (excluding wearable parts).
Though this cutter was originally designed specifically for the photography market, it has proven a powerhouse across many other industries that offer all-day and every-day cutting for their clients, including print shops. The Professional is perfect for heavy-use cutting and trimming of flexible materials, offering cutting action so smooth that a cut can literally be made using only the pinkie finger.
Rotatrim Professional Key Features:
Design offers a maximum cut depth of up to 3mm.
Dual chrome-plated guide rails completely eliminate cutting head swivel.
A solid laminated gridded baseboard ensures accurate placement of work.
All-metal end frames and head, and an aluminum square side rule, lead to performance that lasts a lifetime.
Hand-finished blades are crafted to incredible tolerances to two-thousandths of an inch.
To ensure accuracy and performance, the blades have a bevel ground into the cutting edge at a very precise angle to offer up the perfect contact point for the rotary blade.
Self-sharpening, long-lasting, rolling blades are ground to extremely tight tolerances twice, and then de-flashed to remove any edge burring. An initial hollow grind places a concave profile to the inside of the blade and a chisel grind creates an angled bevel edge on the blade for precision and outstanding longevity.
Two-way cutting available by removing the overload protection plate.
ISO9001:2008 Quality Certified.
Made 100% in England.
Rotatrim Professional Tested and Approved Materials:
This multi-substrate cutter works great with all of the below materials that have been tested and approved, but it is not limited to these materials. So if you have a substrate not listed and want to test it before you buy, give us a call at (866) 537-2244 so we can arrange some sample testing. Though this cutter has a capacity of up to 3mm, the capacity may vary depending on the structure and hardness of the material being cut.
Canvas
Cellophane
Cibachrome
Cork
Corrugated card
Digital prints
Encapsulations
Felt
Flexographic plates (.067″)
Floor graphics
Heatseal
Inkjet paper
Laminations
Mount Board
Offset printing plates
Packaging materials
Photo paper
Photo film
Polyethylene
Polyester
Polystyrene
Posters
Reflective film
Self-adhesive film
Tissue paper
Transparencies
Veneers
Vinyl
Videos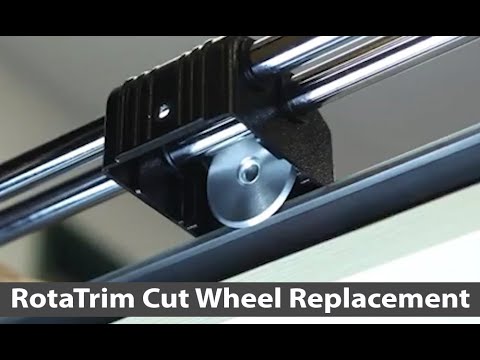 Blade Replacement for RotaTrim Professional Trimmers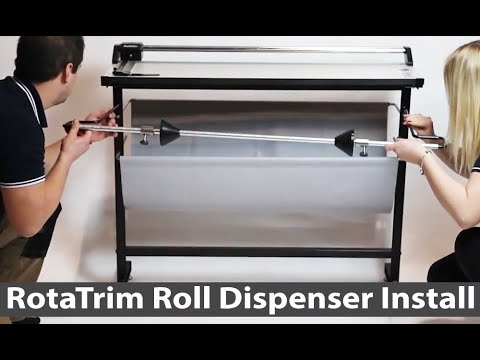 Roll Dispenser Install for the RotaTrim Professional Series Stands
Transcript:
The RotaTrim Professional stand kits are an optional accessory for the Professional M Series trimmers. Add on to the stand by adding the optional roll dispenser for simple cutting of rolls of material. This video shows you how to assemble and install the roll dispenser onto your stand.
The RotaTrim Professional stand kits are an optional accessory for the Professional M Series trimmers. Add on to the stand by adding the optional roll dispenser for simple cutting of rolls of material. This video shows you how to assemble and install the roll dispenser onto your stand.
Q
Our digital print media is 54" wide. Does 54" material fit in this cutter? or is 54" the overall length of the cutter?
A
When you order the 54" model, that is the cutting width, so it will handle media up to 54" wide, maximum. If your media is precisely 54", however, we would recommend choosing the next size up to allow for more space and handling area of your media. 54" is the widest RotaTrim Professional available, but we offer a variety of other models 60" and longer here, if you would like to browse: https://www.binding101.com/cutters-trimmers/cutters/rotary-trimmers/50-larger. And you can always call us at 866-537-2244 for one-on-one help to discuss which trimmer would be best for your media type and volume.
Q
can this trimmer cut chipboard? what thickness of chipboard?
Asked by PHYLLIS C SALTER
A
The Rotatrim Professional series cutters will work with chipboard sheets up to a maximum of approximately 1mm think BUT we would recommend the Technical cutter instead, as it has much better clamping and holding of material when the cutter is engaged. You can review the Technical series of cutters here: https://www.binding101.com/rotatrimr-technical-series-rotary-trimmers
Q
Do you carry replacement clamp strips for the Rotatrim T950?
A
Yes, we can get you parts for your RotaTrim T950. Customer service will email you as soon as they can with more information.
Q
can this trimmer cut 1/32" thick styrene?
A
The Rotatrim cutter will not cut through this 1/32" styrene. The Evolution 3 Smartfold would be the best option for this material. You can this cutter at: https://www.binding101.com/evolution-3-smart-fold-cutters