Manual corner rounding machines offer clean and perfectly rounded edged on stacks of paper, plastics, and sign materials with the power of manual operation using a handle. They are great for lower volume or occasional cutting, where a bit of manual work won't fatigue your users. Schools, businesses, organizations, and corporations are just a few of the popular customers who use manual corner rounders for their paper and plastic products, such as business cards, brochures, literature, and more. These desktop models are simple to use, and offer easy die change out so you can use various radii sizes for your various sheet size requirements. Whatever your individual needs, you can find it in our selection of corner rounders that includes top-of-the-line brands like Akiles, Challenge, and Lassco Wizer,
Read more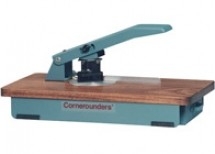 We can't find products matching the selection.
Hi there!
We want to give you $10.
Sign up for Exclusive Email Offers
Success! You're now on the list. You'll start receiving Exclusive Email Offers shortly.
Please copy and use promo code KLEMAILQ121 in your cart.*

* Offer valid once per customer on orders of $50 or more
$10 OFF your first order of $50 or more
Signup For
Exclusive email offers