Chandler & Price Paper Cutter Replacement Blades
If you have a Chandler and Price cutter that is not cutting to normal standards, then it may be time to buy a replacement blade for your cutter online at Binding101. You will know you need a new knife when the cutter creates edges not as smooth as before, or when the machine works harder than it needs to to cut through the same capacities as before. Replacing the Chandler & Price blade in your cutter will not only produce the perfect quality cuts you need, but will also reduce wear on the machine, extending the life and protecting your investment. We have the highest quality Chandler and Price blades for a variety of cutter models, including the 1927A, BR 2327, HY3027, and more. Just select the model you have below, then compare the size and number of holes to your current blade to ensure perfect compatibility. If you don't see exactly what you need, please call us at (866) 537-2244 so we can get it for you.
Read more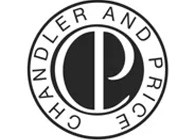 We can't find products matching the selection.
Hi there!
We want to give you $10.
Sign up for Exclusive Email Offers
Success! You're now on the list. You'll start receiving Exclusive Email Offers shortly.
Please copy and use promo code KLEMAILQ121 in your cart.*

* Offer valid once per customer on orders of $50 or more
$10 OFF your first order of $50 or more
Signup For
Exclusive email offers