James Burn CB30QS 12" Automatic Coil Inserter Item#04JBCB30QS
27390
NewCondition InStock
James Burn CB30QS 12" Automatic Coil Inserter Item#04JBCB30QS
Overview
Automate your spiral binding finishing process with the CB30QS automatic coil inserting and crimping machine. This rugged coil finisher will automatically insert the coil into your punched pages, cut the coil to size, and crimp the ends in, finishing the documents perfectly, every time. It will run at speeds up to 600 documents per hour* and can handle
spiral binding coil
sizes from 8mm to 20mm, as well as 6mm and 7mm with the optional crimping head kit. It is easy to use with simple controls, and requires no tools or complicated training for setup and operation. Changing over between sizes is completed in just a few seconds, lending to the speed and usability of this machine. The CB30QS is a compact and low-maintenance machine that automates the coil finishing process at an affordable price. Buy the CB30QS online today for your large volume print shop, trade bindery, digital on-demand store, or large office today and start producing the highest quality books quickly and easily. Choose from two different CB30QS models: one that can handle from 5" to 12" binding edges, and one that can handle 5" to 17" binding edges for wider format books.
Specifications
Item #
04JBCB30QS-GRP
Manufacturer
James Burn
Manufacturer Part Number
CB30QS
Suggested User
Industrial
Binding Style
Spiral Binding / Plastic Coil
Operation: Binding
Electric
Included Supplies & Accessories
15 Sets of Spine Formers
Photo Instruction Manual
Instructional Video
Power Voltage
110v Single Phase 60 Hz
Dimensions
36" W x 24" D x 42" H (Both Models)
Manufacturer's Warranty
90 Day Limited Manufacturer's Warranty
Punch & Bind Capability
Binding Only
Setup Time
5-15 Minutes, Depending on Operator
Paper Size
5" to 12" Binding Edge, or 5" to 17" Binding Edge (Depending on Model)
Accepted Paper Type
No Stock Limitations
Compatible Binding Supply Sizes
8 to 20 mm Plastic Coils
Maximum Book Thickness
Up to 5/8" Thick
Selectable Speeds
Dependent on Operator
Speed*
Up to 600 Books per Hour
Air Compressor Requirements
2 CFM at 80 PSI
Control Panel
No Control Panel
Hands-Free Operation
No
Special Training Required
No Special Training Required
Product Weight (lbs)
190
Shipping Weight (lbs)
230
Shipping Information
This item ships via Truck (Common Carrier). It is the responsibility of the Consignee (receiver) to remove the product from the truck. If you do not have a loading dock or any other means to lift the freight off the truck and/or you need assistance bringing the product inside of your location please call (866) 537-2244. Click here for full details.
Description
The James Burn CB30QS is an automatic spiral binding / plastic coil finishing machine that will insert the coil into your document, cut it to the proper length, and crimp both sides simultaneously in to finish the book. Books are placed onto the machine by an operator vertically, which allows for even tabbed and extended cover books to be bound flawlessly and without hassle. The CB30QS is known throughout the trade bindery, high volume print shop, and print on-demand markets as one of the most reliable electric coil finishers on the market, offering an incredibly low cost of ownership. It is low maintenance and features simple controls for quick and easy setup of the machine and size changeovers.
For quality without compromise, consider buying the James Burn CB30QS automatic coil inserter and crimper online today. It offers finishing speeds up to 600 books per hour*, and is so simple that even your newest employees can quickly be trained to use it. Set up and changing of the sizes doesn't require any tools or mechanical background, and can be done in just a few minutes. This quick setup is actually indicated in the model; that is what the "QS" stands for. The CB30QS runs quietly and smoothly, finishing your punched documents with one of the most popular binding methods in the world. It is simple, flexible, and efficient, making it an incredibly popular unit for book binders of all kinds.
James Burn is known worldwide for having some of the highest quality binding equipment in the world, and the CB30QS is no exception. It is manufactured with top-quality materials and with precision engineering that not only lends to a very long life, but also to a perfectly finished document. It offers a low cost of ownership, as it needs very little maintenance, and offers high reliability, even in your high volume and on-demand printing and binding environments.
CB30QS Features & Benefits:
• Quick & Easy Setup - Setup of the CB30QS is quick and simple, requiring no special tools. The QS in the model number actually stands for "quick setup".
• Fast Size Changes - Sizes can be changed over in just a few seconds, so setup between jobs is practically eliminated.
• Speedy Finishing - Production speeds up to 600 books per hour*. Simultaneous 2-side crimping.
• Clean Finishing - Perfect cutting and crimping of coils for a clean finished document.
• Hands-Free Activation - Foot pedal leaves both hands free to handle documents.
• Small Footprint - Takes up very little space on your operating floor.
CB30QS Optional Accessories:
• 12" Crimping Head Kit - Allows for use with 6mm and 7mm small coils. Compatible with 12" CB30QS only. (Item# 04JBCB30QSKIT)
• 12" Coil Adapter Kit - Allows for use with 8 ½" sheets and 12" pre-cut coils without having to hand-cut the coil. This adapter supports the extra coil on the right side of the book so the cut/bend head can grab it to properly finish the book. (Item# 05GW200849)
*May vary depending on sheet size, paper stock, operator, and other factors.
Videos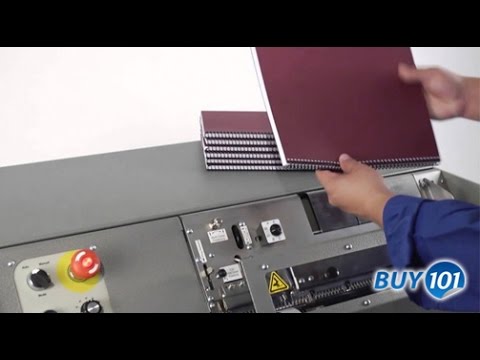 James Burn CB30QS Automatic Coil Inserter
Transcript:
In this video we explain the James Burn CB30QS automatic coil inserter features and demonstrate just how fast and convenient this electric coil inserter is, making it a great investment for digital print shops, copy centers, book binderies, and more.
In this video we explain the James Burn CB30QS automatic coil inserter features and demonstrate just how fast and convenient this electric coil inserter is, making it a great investment for digital print shops, copy centers, book binderies, and more.
Q
where do you plug in the air hose?
A
The airline is plugged into the air inlet on the side of the machine. It is best to put a male quick disconnect into the treads on the inlet. The airline coming from the compressor will want to have the female disconnect on it so it can be attached to the male on the machine. These quick disconnects allow the line to be easily taken on or off as needed.