Thermal binding is one of the easiest and most professional ways to bind presentations and documents of all kinds. It allows you to create both hard cover and soft cover books that are similar to perfect binding, but without the large equipment requirement, and messy and complicated glue application process. With thermal binding covers, the glue is always pre-applied into the inside of the spine, which is just one of the things that makes it one of the easiest ways to bind books. Just pair with the compatible thermal binding machine for an all-around easy document binding solution. They require no special training and simple automatic activation to greatly reduce manual labor and binding time.
Thermal binding covers come in a large selection of cover styles, not just hard or soft covers. There are flexible wrap-around thermal bind covers that have clear fronts with linen spines and backs, or all linen wrap-around covers with window, as well as just a spine glue option that you can place into your own custom scored cover. The hard cover thermal binding covers also come in several options, including plain hard covers or hard covers with a window cut out on the front to show a portion of your first page through. In addition to these options, Coverbind brand thermal binding covers also have both hard and soft covers that you can actually customize in-house with any standard printer and no specialty equipment, putting the power to personalize premium presentations yourself.
At Binding101 we offer two of the most world-renowned thermal binding supply brands: Coverbind® and Unibind®. Each are compatible with only their own machines, so make sure you choose the supplies below that matches your equipment.
Email info@buy101.com or call us at call (866) 537-2244 for more information or if you need help choosing.
Read more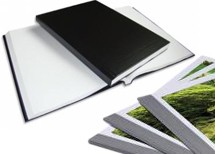 Hi there!
We want to give you $10.
Sign up for Exclusive Email Offers
Success! You're now on the list. You'll start receiving Exclusive Email Offers shortly.
Please copy and use promo code KLEMAILQ121 in your cart.*

* Offer valid once per customer on orders of $50 or more
$10 OFF your first order of $50 or more
Signup For
Exclusive email offers