Black Vegan Leather 11" H x 8-1/2" W Portrait Pinchbook™ Hardcover Photo Books (5 Pack)
52.29
NewCondition InStock
Black Vegan Leather 11" H x 8-1/2" W Portrait Pinchbook™ Hardcover Photo Books (5 Pack)
Overview
Make premium hardcover presentations, menus, photo books, and more with Pinchbooks™. These unique wrap-around hard covers let you bind up to 35 sheets* of paper without the need for a machine, all while allowing for unlimited editing abilities. Plus, you can make your book in less than 5 seconds; just open the covers, place your pages in the patented spine, and close the covers -- you're left with a strong bind that will hold up to regular use.
The design offers a premium look, but at a price point that everyone can appreciate. They're perfect for baby books and yearbooks, as well as more professional hardcover books, such as real estate presentations, restaurant cocktail menus, and more. They are made of a premium faux/vegan leather material and are ideal for portrait documents and photos measuring 11 inches high and 8-1/2 inches wide. They are sold in a pack with 5 books.
Specifications
| | |
| --- | --- |
| Item # | 858511BLKLTHPNW |
| Manufacturer | Spiral |
| Manufacturer Part Number | 858511BLKLTHPNW |
| UPC Code | 816082020320 |
| Sheet Size | 8-1/2" x 11" |
| Orientation | Portrait |
| Colors Available | Black |
| Material | Vegan Leather (Faux/Imitation Leather) |
| Window | None |
| Capacity* | 35 sheets (20# copy paper) or 25 sheets (standard photo paper)* |
| Quantity | 5 Books / Pack |
Description
Pinchbook™ Photo Books are an incredible innovation in the Photographic and Presentation industries. Creating photo books and hard books of all kinds has never been easier. Pinchbooks™ allow anyone with a high-quality color printer to enter the popular and fast-growing photo book market. These books are perfect for event photographers, photo centers, and print shops to offer on-the-spot photo books with no upfront equipment costs and no need for a large workspace.
Simply pull back the cover to make the spring-clamp open, insert the pages and snap the cover closed. The stop at the bottom of the spine ensures that all of the pages are perfectly aligned and held securely. If a mistake is made, simply reopen and adjust the pages. This editable feature ensures you will never have a wasted book or ruined print. Each Pinchbook has a capacity of up to 35 sheets of 20 # copy paper or about 25 sheets of photo paper. They are available in premium vegan leather. These DIY hardcover books are reusable, expandable, and use no messy glues to hold the pages together.

Pinchbooks Features:
No equipment required
Add or swap pages any time with unique, expandable binding to hold up to 25 sheets* of photo paper or 35 sheets* of copy paper
Custom Foil Stamping is available upon request
Popular Uses for Pinchbook Hardcovers:
Guest registry
Restaurant menus
Bar menus
Photobooks
Presentations / reports
POP Point of purchase displays
1-Hour photobook turnaround
Real estate proposals
Pinchbook™ Available Options:
| | | | | | |
| --- | --- | --- | --- | --- | --- |
| Pinchbook™ Size | Window | Material | Color | Quantity / Pack | Item Number |
| 8-1/2" x 11-3/4" Portrait | None | Vegan Leather | Black | 5 Books | 858511BLKLTHPNW |
* Sheet capacity will vary depending on paper stock used.
Videos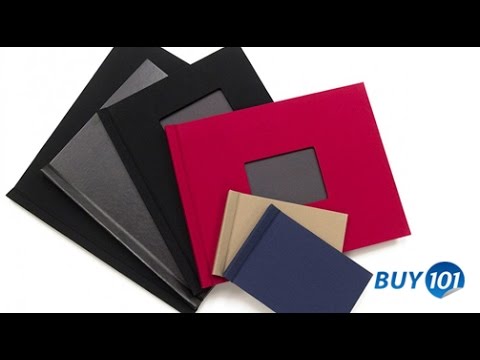 DIY Pinchbook™ Photo Books Instructional Video
Transcript:
This how-to video shows you just how simple it is to make your own hard cover photo books with Pinchbook™ DIY photo albums. All you have to do is open the cover, insert your photos, and close the cover - the patented spine firmly holds onto your photos, can can be easily re-opened for editing.
This how-to video shows you just how simple it is to make your own hard cover photo books with Pinchbook™ DIY photo albums. All you have to do is open the cover, insert your photos, and close the cover - the patented spine firmly holds onto your photos, can can be easily re-opened for editing.
Expert Reviews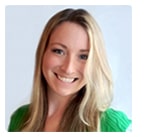 Pinchbook Expert Review by Mallory Morsa
About Our Expert • Mallory Morsa has worked in several different departments in her 10+ years at Binding101. Beginning in customer service and sales, she honed in her skills to provide the customer with professional, fast, and accurate information. Shortly after, she was promoted to sales supervisor and product expert, gaining hands-on and in-depth product research as well as training the team on new products. She now holds the position of content specialist, taking her extensive knowledge of our products and putting it on the web for you to access at any time. In her expert reviews, she outlines the good and the bad of products that she has handled herself, and uses her experience to identify the ideal users. If you have any questions or need more information about this product, please call our trained customer care team at (866)537-2244. Thank you for stopping by!




I RECOMMEND THIS FOR:
Pinbooks are an innovation! The only cover of their kind, they offer the premium look of a hard cover, with the ease to bind without a machine, and the flexibility to edit your pages whenever you need. These unique covers are popular for users of all kinds, from businesses looking to make VIP client presentations, to photo studios looking to offer an on-demand photobook, to restaurants looking to improve their menus; even individuals can use them for their own photos or documents with the affordable price point and low minimum quantities. So to sum up…I recommend pinchbook covers for… everyone!

WHAT I LIKE ABOUT IT:
First off, Pinchbooks are the only premium hard cover that lets you bind pages without having to invest in an expensive machine. In the past, the only way to achieve this look would have been to invest in a case maker and gluing machine, usually costing over $10,000. But now, with Pinchbooks, you can achieve a comparable look for only a couple of dollars a book.

Along the same lines, these covers are simple to use; you literally just have to open up the covers until the spine opens, slide in your pages, and then close them again. There is no punching, no gluing, no mess – just simple, fast, effective binding. The patented spine does a surprisingly great job of tightly holding the pages, while still allowing for editing as frequently as you need by just repeating the same steps. Make a mistake? Change out the page. Need to change the whole menu for a new season? Change it as many times as you need to without affecting the integrity and quality of the book. This also means that they are lightspeed fast to make – in fact, they can be bound as quickly as about 5 seconds each.

Pinchbooks also have a lot of sizes to choose from… from small 4x6 photobooks to large 12x12 documents, the choices make it easy to find the perfect fit. Professional colors available include black, navy blue, red, and taupe (additional colors might also be available on clearance while supplies last) and there are two materials available: a linen cloth and a faux vegan leather.

THINGS TO CONSIDER:
The primary consideration before you choose Pinchbooks is probably the binding capacity, which has a maximum of 35 sheets of copy paper, or about 25 sheets of photo paper (depending on the stock thickness). This makes them great for smaller presentation and albums, but not suited for larger proposals or reports. Other than the page count, the real only other consideration is the color selection. As a lover of these books, I would like to see a full rainbow of color options to choose from; but alas, that is not the case…not yet at least.

THE BOTTOM LINE:
Pinchbooks are affordable, easy, professional, and require no expensive equipment or messy glue to bind. They allow for frequent editing and come in a variety of size and even material choices so you can find the perfect fit for whatever your need may be. They are suited well for large photo studios and corporate offices, down to the individual crafter looking to make photo gifts. Whatever your business, a hard cover Pinchbook can elevate your document to a whole new level; onlookers will have no idea how little you spent on them.